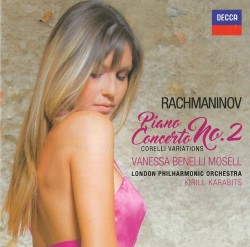 Rachmaninov Piano Concerto No.2, Corelli Variations
Vanessa Benelli Mosell, London Philharmonic Orchestra
Decca 481 393

Review
The following review is an excerpt from Keyed In (May 2017) which can be read in its entirety here.
With a handful of recordings already in her discography, 30-year-old Italian pianist Vanessa Benelli Mosell has now added her orchestral debut with the London Philharmonic Orchestra on Rachmaninov Piano Concerto No.2, Corelli Variations (Decca 481 393). The concerto is a staple in the repertoire. The sheer beauty of Rachmaninoff's writing makes it a good choice for a young performer breaking into the market. The real test of this work is, however, the second movement and it's here that Mosell truly proves herself as a musician. This movement is much less dense than the outer ones and leaves the performer quite exposed with sparse lines and slow tempos. What holds this movement together for Mosell is the honesty of her playing. Nothing's contrived. Her phrasings are straightforward but clearly the product of much thought. She and Rachmaninoff are the perfect match.
The disc also includes Rachmaninoff's Variations on a Theme of Corelli Op.42. The 20 variations are an extremely demanding set to perform. Mosell plays through them with impressive ease, meeting every demand for big powerful sound as well as the deepest introspection. It's obvious she has invested a great deal in her interpretation and the impact is even more profound than her performance of the Concerto No.2. It's quite surprising that the small filler piece on the recording's program steals the show so convincingly.