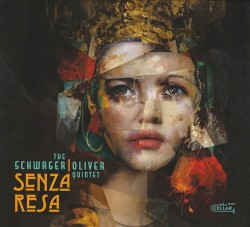 Senza Resa
The Schwager/Oliver Quintet
Cellar Music CMR030123 (cellarlive.com)
Much can be said about both guitarist Reg Schwager and saxophonist and flutist Ryan Oliver. Suffice it to say that both musicians have paid their dues in and around Canada and elsewhere with demanding bandleaders. In many respects their wide experience and well-documented discographies make them ideally suited to this ambitious project called Sensa Reza.
On sterling repertoire Schwager and Oliver can be heard firing on all cylinders throughout the kinetic-energy-filled music on this album. The ensemble also features the liquid harmonics of pianist Nick Peck, and sizzle and rolling thunder with bassist Rene Worst and drummer Ernesto Cervini. Together, these musicians meld melodies, harmonies and rhythms into songs with a preternatural roar from one chart to the next, giving no quarter and taking no prisoners.
No wonder that producer Luigi Porretta titled this album Senza Reza, Italian for "no surrender." This powder-keg music explodes out of the gate with the incendiary Another Happening. There is no letup as the quintet negotiates the fast and oblique-angled rhythmic changes of Rushbrooke. This magnificently frenetic pace continues throughout, changing to elegiac only for Tender Love. The musicians on Senza Reza present an edge-of-the-seat experience from end to end, brilliant in both long-limbed soli and in ensemble.