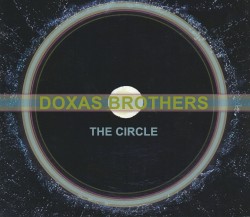 The Circle
Doxas Brothers
Justin Time JTR 8624-2 (justin-time.com/en/album/631)
Tenor saxophonist Chet and drummer Jim Doxas are quite the power duo. Besides the obvious lifelong bond that comes with being brothers, they have the added privilege of considering each other lifelong musical counterparts. Their deeply rooted chemistry really shines through on their debut album as the Doxas Brothers. The welcome additions of pianist Marc Copland and bassist Adrian Vedady also contribute to the family vibe, as they have been associated with the brothers Doxas for years in a variety of contexts. The synergistic result is some of the most intoxicating post-bop you're likely to find this year.
Recorded in its entirety by Jim and Chet's father George Doxas in their family's Montreal studio, the album has an endearing homemade sound quality to it that really adds to the experience. Every aspect is built with TLC, and the level of comfort with which the musicians interact is extremely apparent. Chet carries a majority of the load compositionally, contributing six tunes out of a total of eight. His style is distinctive, while still remaining faithful to his influences, sometimes evoking greats such as pianist Andrew Hill. One of the most admirable characteristics of the music is Chet's acute attention to detail. Each melody manages to leave an impression while still having his own brand of intricacy and nuance. This album is a restrained affair with a rather hushed approach, and the polished interplay within the tight-knit ensemble will leave the listener mesmerized.