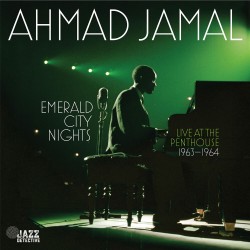 Emerald City Nights: Live at The Penthouse 1963-64
Ahmad Jamal
Jazz Detective DDJD-001
Emerald City Nights: Live at The Penthouse 1965-66
Ahmad Jamal
Jazz Detective DDJD-002
www.deepdigsmusic.com
At 92, Ahmad Jamal can look back on a brilliant career, one reaching levels of success unimaginable to most jazz musicians. Cited by major figures such as Miles Davis and Keith Jarrett as an influence while often being dismissed by critics, Jamal explored unusual formal and textural dimensions, concentrating on rhythmic invention in a distinctive way and organizing his tunes into elaborate patterns of vamps and riffs that expanded on the kinds of big-band formal practices developed by Duke Ellington.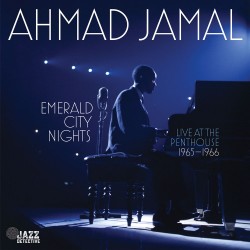 These two 2CD sets come from 1960s performances at the Penthouse, a prominent Seattle jazz club of the period at which Jamal performed frequently. Originally recorded for radio broadcasts, the sound is excellent, with each set covering appearances over a two-year period. Jamal is joined by a series of rhythm section pairings, including bassists Richard Evans and Jamil Nasser and drummers Chuck Lampkin and Vernel Fournier, each team forming a vital partnership in executing Jamal's complex extrapolations, combining detailed arrangements and fluid improvisations. Works here often develop at length, including a crystalline version of Jamal's own Minor Moods and a virtuosic I Didn't Know What Time It Was, one approaching the quarter-hour mark, the other exceeding it, but there are no empty segments, each one a model of focused musicality. The contemporary Feeling Good, a hit for Nina Simone, sounds like it was written for Jamal. Meanwhile, Jamal's art is also an allusive one, whether he's inserting Nat Adderley's Work Song into that Bricusse-Newley pop hit or Charlie Parker's Now's the Time into Cole Porter's All of You.
Jamal's multi-dimensional art, already set deep in jazz traditions, might be linked with the architectural dimension of his faith. In 1959, following travels in Muslim Africa, he moved to Chicago where he opened an alcohol-free night club called the Alhambra. Hearing the compound, suddenly shifting patterns that he and his bandmates bring to Richard Rodgers' Johnny One Note, from delicate tinkling upper-register figures to rolling bass crescendos and sustained drum rolls, one might readily imagine that 1959 trip very likely included a visit to Spain and that other Alhambra: the palace in Cordoba. Like the palace, a Jamal performance can be a hypnotic series of abstract signs, whether geometric forms, an unknown alphabet or both, organized into fluid patterns, ones in which abstraction and attraction can arise, often free of specific meaning, everything in celebration of a transcendent symmetry.