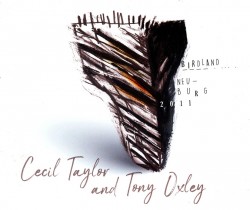 Birdland, Neuburg 2011
Cecil Taylor and Tony Oxley
Fundacja Sluchaj FSR 13/2020 (fsrecords.net)
A remastered radio broadcast of a two-part improvisation by American pianist Cecil Taylor (1929-2018) and British percussionist Tony Oxley (b.1938) at an intimate German club performance, Birdland offers irrefutable evidence of the mastery of men who had at that point been collaborating for more than two decades.
Free music avatar and one of the 20th century's most influential musicians, Taylor's sound world is only off-putting if one is frightened by modern music. Demonstrably dramatic, shaded and fluid, while being spontaneous, every key stroke follows cerebral logic, with each piece possessing as categorical an introduction, elaboration and conclusion as any notated score. Shaking and vibrating the keyboard and pedals in both smooth and rugged fashion, Taylor's instantly identifiable style evolves at various pitches and speeds. Often he adds pressurized extensions to intricately elaborated sequences, detouring along unexpected sonic alleyways, then cannily changing course to avoid meandering into musical dead ends. Meanwhile Oxley's paradigm includes wooden slaps, clanging cymbal and drum plops, each precisely timed so that the pianist's sudden staccato runs or leaps from one register to another never catch him off guard, but are shadowed or amplified and appropriately balanced.
Taylor was 82 at this gig, yet displayed no loss of interpretative power. Paradoxically in fact, his playing is more adventurous and masterful than on his first LP in 1956. Like a late-career interpretation by Rubinstein or Horowitz, this CD is both defining and definitive.