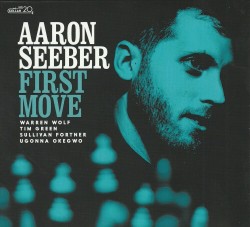 First Move
Aaron Seeber; Warren Wolf; Sullivan Fortner; Ugonna Okegwo
Cellar Music CM103121 (cellarlive.com)
Most jazz musicians – no matter what instrument they play – agree that you feel free to go wherever the music takes you when you have a drummer who knows when to fly rhythmically and when he has to "stay in the pocket" so others can fly. It's clear after the first song on First Move that Aaron Seeber is exactly that kind of drummer.
He shows the elegantly raucous side to his musicianship, with great artistry and flamboyance right from the get go. The pinnacle of the disc comes on the drummer's First Move, a fast piece that shows not only his ability to play inside the beat and around it but also to run circles and spirals around the burgeoning music,
This program is also spiced with many classics played in the (so-called) bebop style. During this daring music, Seeber evokes the ghost of Billy Higgins with the melodic chatter of the drums and the incessant hiss of cymbals. Seeber shows uncommon maturity in his playing of Charles Mingus' classic ballad, Duke Ellington's Sound of Love, (and later with molten rhythms on Mal Waldron's Fire Waltz) with slow and quietly balletic drumming that seems to sing. For long sequences in the pocket, listen to Seeber on Charlie Parker's Klactoveedsedstene.
Being accompanied by altoist Tim Green, pianist Sullivan Fortner, vibraphonist Warren Wolf and bassist Ugonna Okegwo also helps make this a fiery debut disc by a truly fine drummer.