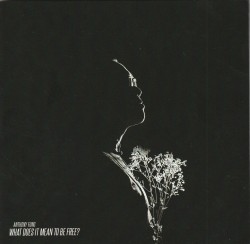 What Does It Mean To Be Free
Anthony Fung; David Binney; Luca Mendoza; Luca Alemanno
Independent (anthonyfungmusic.com)
Drummer/composer Anthony Fung was born in Richmond Hill and raised in Canada, but has studied and lived in the United States for several years. He earned a Bachelor of Music degree from Berklee and a master's from the Thelonious Monk Institute of Jazz Performance. What Does it Mean to be Free? is his third album and was recorded in L.A. where he currently lives.
This an exciting album with eight original compositions and a great arrangement of Wayne Shorter's Sighteeing, all played with an intense yet grooving style by some stellar musicians. In addition to the core quartet (Fung on drums; David Binney, alto sax; Luca Mendoza, piano; Luca Alemanno, bass) several tracks have special guest performers. On the title track, Andrew Renfroe brings some blistering guitar work including a high intensity exchange with Binney on sax. Defiance features Braxton Cook on a tender yet intense alto sax melody throughout and Alemanno with a pretty bass solo. Let Us Not Forget to be Kind has Roni Eytan providing some beautiful Toots Thielmans-influenced harmonica.
Throughout the album Mendoza's piano is spectacular, providing tasteful accompaniment and solos on the slower tunes and effortlessly complex bop lines on the up-tempo numbers. Fung's drums are propulsive and complex while still providing a solid backing to the proceedings. What Does it Mean to be Free? At least part of the answer has to be: free to make great music.