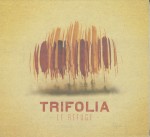 Montreal pianist Marianne Trudel assembles her music from a spectrum of elements, mixing jazz, folk, pop, classical and world music into a compelling original mix. She's performed in a number of contexts, including a septet, but few of her ensembles have possessed the immediate allure of the trio Trifolia with bassist Étienne Lafrance and percussionist Patrick Graham heard on the group's debut Le Refuge (TRUD 20131, mariannetrudel.com). Part of the trio's charm is its sheer stylistic and sonic breadth, including Trudel's willingness to overdub different keyboards, Lafrance's sheer virtuosity and Graham's expanded drum kit. Steppes has the feeling of a French music hall, with Trudel playing accordion and adding a wordless vocal while Lafrance adds embellishments in his extreme upper register. As Possibilités et Limitations grows in intensity, Graham adds sparkling accents with tiny cymbals. It's amiable, unusually tuneful music that just keeps surprising.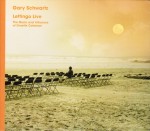 Montreal guitarist Gary Schwartz has put together an 11-piece band for the CD Lettingo Live: The Music and Influence of Ornette Coleman (thejazzbox.ca/gary-schwartz-lettingo-live), drawing on key members of the Montreal free jazz community like saxophonists Alex Côté and Frank Lozano, violinist Josh Zubot and bassist Nicolas Caloia. The result is a thorough re-thinking of some of Coleman's more familiar works, an orchestral view of pieces originally conceived for piano-less quartets that adds shifting textures, a certain brassiness, electric guitar and keyboards, and an expanded harmonic palette. Alexandre St. Onge's arrangement of Coleman's signature Lonely Woman reveals a knack for unusual voicings, while the band's power and Schwartz's guitar come to the fore on Law Years.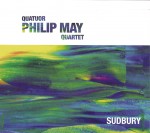 Canadian jazz composers are more apt to celebrate expansive prairies, mountain vistas or maritime shorelines than Sudbury, the Northern Ontario city best known for standing in as the moon in NASA equipment tests. But the city has produced a small cadre of gifted musicians, amply demonstrated by the Quatuor Philip May Quartet's Sudbury (Romhog 122, philipmay.ca). Drummer May has assembled former Sudbury associates guitarist Reg Schwager and trumpeter Kevin Turcotte along with bassist Clark Johnston and special guest Jeannette Lambert, Schwager's sister and another former Sudbury resident. Tunes like Schwager's Pick-up Trucks and Hockey Pucks and Turcotte's Theme for Tony's Basement are evidently fuelled by reminiscence, achieving the lyrical sublime on Schwager's Sudbury Sunday Morning. Lambert makes notable contributions with André Paiement's Dimanche après-midi and two takes of Stompin' Tom Connors' unlikely Sudbury Saturday Night, adding a jazz touch to Connors' trenchant homespun observations.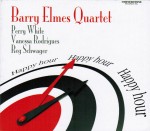 Toronto drummer/composer Barry Elmes opts for a relaxed, ebullient swing on his new Quartet's Happy Hour (Cornerstone CRST CD 142, cornerstonerecordsinc.com). The band's sound is largely set by Hammond organist Vanessa Rodrigues, whose smooth, bubbling sound creates a gentle, continuous swing. The band's featured soloists are guitarist Reg Schwager (again: he may be Canada's most frequently recorded jazz musician — if he's not, he should be), contributing thoughtful, luminous solos and tenor saxophonist Perry White, who brings a special intensity to every occasion, even one as laid back as this. The repertoire is largely familiar standards, and each one shines, from the sinuous Comes Love to the charmingly antique When You're Smiling. Schwager's finest moment comes on Jerome Kern's Yesterdays, while White brings a harder edge to Softly as in a Morning Sunrise. The mood may be low-key, but these are masters at work, creating one of the year's more memorable recordings.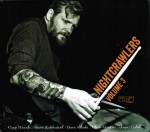 Vancouver drummer Jesse Cahill leads another organ combo, The Nightcrawlers, on Volume 3 (Cellar Live CL030913, cellarlive.com). The style is strongly shaped by 60s soul jazz with elements of blues, funk and gospel, whether the tunes are fresh offerings by guitarist Dave Sikula and Hammond organist Chris Gestrin or covers of compositions by the idiom's original masters, like Brother Jack McDuff or Big John Patton. Everything about the band's vibe resonates with the 60s Blue Note and Prestige recordings: it's hard-driving, soulful music with tenor saxophonist Steve Kaldestad summoning up some of Stanley Turrentine's tight vibrato and Cory Weeds, playing alto for the occasion, blending equal parts bop and blues. Cahill sounds born to the style, animating the proceedings with patterns that are at once tight and loose. The Latin funk groove of Patton's Latona is especially good.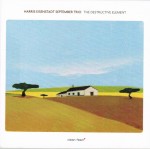 Expatriate Toronto drummer/composer Harris Eisenstadt has different bands for different occasions: his September Trio may be reserved for his most concentrated and pensive work, as evidenced by its second CD, The Destructive Element (Clean Feed CF276 CD, cleanfeed-records.com), which takes its title and epigram from Joseph Conrad's Lord Jim, significantly a work driven by multiple narrative perspectives. There's something similar going on in this music. Completed by New York-based tenor saxophonist Ellery Eskelin and pianist Angelica Sanchez, the group creates textures of extraordinary density, as in Back and Forth, in which composed and spontaneously generated patterns seem to wrestle in time in a piece that at times suggests an attenuated blues. That complexity is a key value here, with the musicians achieving a kind of continuous interdependence and isolation of voices, as if everything both fits and doesn't fit, whether it's the sun-and-cloud play of harmony on the title track or Eskelin's frequently cheery brushwork. It's challenging work that rewards close and repeated listening.