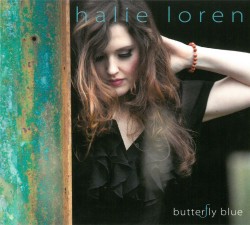 Butterfly Blue
Halie Loren
Justin Time JTR 8591-2 halieloren.com
Gifted vocalist and composer Halie Loren's latest recording (her eighth) is all about transformation and the resilient nature of the human heart. In keeping with these themes, Alaskan-born Loren has deftly selected a musical palette that incorporates not only beloved standards from The Great American Songbook, but well-written contemporary and original compositions as well as a beloved jazz anthem of hope. Loren acts as co-producer here, along with pianist/composer Matt Treder – and she is firmly and beautifully supported by her longtime rhythm section including Treder, bassist Mark Schneider and drummer Brian West. Tastefully arranged horns and strings also grace the project in all of the right places.
The original opening track, Yellow Bird, is a stunner and Loren's sumptuous, multi-tracked vocals and jaunty horn arrangement makes this tune a total delight. Another gem is I Wish You Love (Que reste-t-il de nos amours?), which was a huge hit for Keely Smith in 1957. It is no easy task to perform a venerable song that has been previously interpreted and imbue it with your own special emotional language and musical statement… but Loren has done just that, in spades. With her smoky, resonant alto voice, gorgeous French and innovative instrumentation, she has firmly affixed this classic ballad with her own special stamp.
Other delights include a languid and smouldering take on Harold Arlen's Stormy Weather, a bluesy reboot of the Dubin and Warren tin-pan alley classic Boulevard of Broken Dreams and the late jazz giant Horace Silver's heartbreakingly beautiful Peace – the ultimate song of transcendence and healing, rendered simply, movingly and lovingly by Loren.