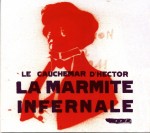 Le Cauchemar d'Hector
La Marmite Infernale
ARFI 2012 AM052 (www.arfi.org)
French Romantic composer Hector Berlioz (1803-1869) declared in 1859 that "music is free" so what better group to put a new spin on some of Berlioz's compositions than Lyon-based free music ensemble La Marmite Infernale?
Asked by the Festival Berlioz, that takes place annually in the composer's birthplace, to re-imagine works by France's most iconoclastic 19th century composer, the 18-piece band treated Berlioz's compositions as it does strains from the folk tradition, preserving the melodies, but appending solos and passages relating to improvisational jazz's freedom, punk-rock's unyielding beat and advances in electro-acoustic programming. Probably the most radical reworking occurs on La fantastique nain de Sophie where sampler player Xavier Garcia mixes extracts from the composer's Symphonie fantastique with the live group playing its version of the work in arrangements midway between those for symphony orchestra and for jazz band.
Less radical, but more affecting, Marche funèbre, based on Berlioz's Grande Symphonie Funèbre et Triomphale which was composed for a 200-strong wind band, removes the original piece's nationalistic militarism but retains its melodic strength, substituting strained grace notes from trombonist Alain Gibert and trumpeter Guillaume Grenard plus splintery buzzes from saxophonist Eric Vagnon sparked by Christian Rollet's rattling percussion. The climactic and close-knit result validates the composition not the jingoism. Then there's Scène aux champs which confirms Berlioz's bucolic interpretation of a pastoral scene, while simultaneously burlesquing it, by having the piece played by 12 guitars in unison.
Although classical purists may blanch at the liberties taken with the compositions here, it's possible that Berlioz, with his sympathy for free expression, may have been impressed and honoured. For the adventurous listener of any stripe though, taken as a whole the CD is no cauchemar or "nightmare" of Hector, but rather a satisfying rêve or "dream."