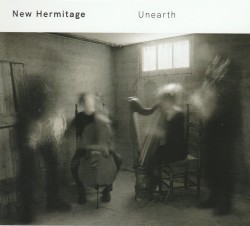 Unearth
New Hermitage
Independent (newhermitage.bandcamp.com)
New Hermitage is a quartet from Halifax specializing in free improvisation and ambient music. It is comprised of Andrew MacKelvie (alto/tenor saxophone, bass clarinet), India Gailey (cello), Ellen Gibling (harp) and Ross Burns (guitar and effects). They have been playing together since 2017 and this is their fifth album.
The premise behind Unearth is a dystopian world where "pollution has decimated the population of the Earth" and the "surviving humans ... live in nomadic clans." The titles (Boiling Off, Collecting Vapours, Light Through the Rubble, Pine Bottle Skylight, Stalkers) evoke a quiet world of limited resources, and a civilization struggling to hold on. All the pieces are inventive and the sounds could be described as "environmental" where strings are as likely to be plucked and scraped as bowed. Lyricism is often eschewed for a sombre layering of sounds. In Signal Scan, MacKelvie's saxophone is ephemeral and whimsical, sounding like someone searching through static for words or other signs of civilization. Stalkers has a science fiction air with forbidding noises and some kind of fog horn echoing through a tunnel.
In Unearth, New Hermitage have created a sparse and inventive world with scarce resources and a compelling story.