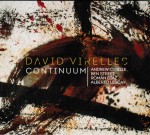 David Virelles arrived in Toronto in 2001 at 17, the protégé of Jane Bunnett who has helped in so many ways to take Cuban music to the world. Virelles received the first Oscar Peterson Prize at Humber College from Peterson himself, then won the Grand Prix de Jazz award at the 2006 Montreal Jazz Festival. Since moving to New York in 2009, he's been studying and working with adventurous musicians like Steve Coleman and Henry Threadgill. Virelle's first American release as a leader, Continuum (Pi Recordings 46 www.pirecordings.com), is a brilliant step forward — an exploration of Afro-Cuban ritual elements in which his sometimes pensive, sometimes explosive improvisations are framed by poet and percussionist Román Diaz, whose poems are in Spanish and African-derived ritual languages. The music is rooted by bassist Ben Street and given further dimension and sonic potency by the great drummer Andrew Cyrille, who brings both Haitian ancestry and jazz lineage to the sessions. In a world where mere piano chops are common, Virelles' Continuum demonstrates real depth and vision.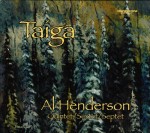 Al Henderson rarely pushes his bass out front but it's hard to overlook his presence as a bandleader and a composer, creating music with independent harmonic structures, a keen sense of voicings, memorable lines and real passion. His latest CD Taiga (Cornerstone CRST CD 138 www.cornerstonerecordsinc.com), named for the Northern boreal forest, is steeped in the traditions of Mingus and Monk (Martian Jump is pure Monk) whether it's hard-driving or weirdly atmospheric — like Croaking Raven which comes with Newfoundland bird tapes, eerie bass clarinet and a recitation of Poe. Henderson is armed with A-list saxophonists — Pat LaBarbera on tenor and Alex Dean on alto, tenor and bass clarinet, and there are appearances on some tracks by baritone specialist David Mott — and the three make up a superb Ellingtonian reed choir on Henderson's Portrait of Billy Strayhorn.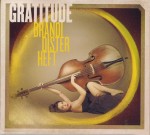 Brandi Disterheft is another standout bassist, with a deep resonant sound of her own and a deft hand at constructing supportive lines and emotionally direct solos. She also has a knack for creating good group chemistry and well-crafted CDs, beginning with the Juno-winning Debut in 2006. On Gratitude (Justin-Time Just 247), she's assembled a first-rate New York band that she uses to excellent effect. It's a group with soulful depths, with transplanted Canadian pianist Renee Rosnes coming to the fore on Disterheft's Blues for Nelson Mandela and the horns — alto saxophonist Vincent Herring and trumpeter Sean Jones — sounding terrific on Rosnes' anthemic post-bop Mizmahta. Disterheft also sings on a couple of tracks, including the soul classic Compared to What, in a light, musical way that's a fine complement to her instrumental abilities.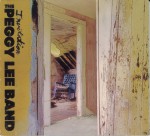 First formed as a sextet in 1998 and now an octet, the Peggy Lee Band has an almost magical capacity for musical synthesis, moving seamlessly between the cellist-leader's compositions, jazz improvisation and freely improvised solos that often explore alternative techniques. On their fifth CD Invitation (Drip Audio DA00853 www.dripaudio.com) the title track has the clear harmonies of a folk song, while other tracks will pick up the moods of hymns, 1930s swing and the elegies and landscapes of Samuel Barber or Aaron Copland, with frequent introductions and interludes of almost interior monologue — the cello sings in whistling, tumbling harmonics, a trombone solo by Jeremy Berkman in which several trombones seem to mutter together, or a passage by guitarist Tony Wilson that might spring from African strings.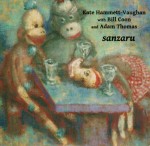 Kate Hammett-Vaughan can be Canada's most adventurous jazz singer — she's turned the writer Jane Bowles' post-stroke notebooks into art song (on Conspiracy from 2006) — but she's also explored more conventional repertoire, revealing at every turn a talent that's as inspired and skilful as it is daring. Whatever the material, Hammett-Vaughan is one of our best singers, with a rich contralto, an ability to sing with the clarity of speech and a host of subtle, expressive techniques from altering pitch to shifting vibrato. A sense of conversational ease permeates Sanzaru (S/R www.katehv.com), a live recording devoted to standards. She's joined by Bill Coon, a guitarist who plays very few notes, just the best ones, and bassist Adam Thomas who sings as well, with such ebullience and musicality that he recalls Louis Prima. Come Rain or Come Shine and 'S Wonderful are highlights.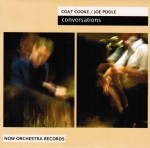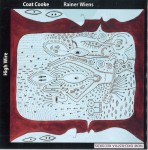 Vancouver saxophonist Coat Cooke may be best known as the leader of the NOW Orchestra, a brilliant aggregation of 16 Vancouver improvisers that set a national standard for such ensembles. He's heard on a very different scale on two new releases, each featuring a duo. Cooke's free-jazz side comes through on Conversations with drummer Joe Poole (Now Orchestra CLNOW006 www.noworchestra.com) with Cooke working through the saxophone family in a series of dialogues ranging from the intensity of Feeling Feint to the puckishly vocal Dancing the Night Away, all of it enhanced by Poole's subtly complex drumming. There's a very different side of Cooke to be heard on the free improvisation of High Wire with Montreal guitarist Rainer Wiens (Now Orchestra CLNOW007). The emphasis is on texture and timbre, eerie whistling saxophone tones moving through layers of bowed and scratched guitar strings. There's something uncannily involving about these fragile, evolving drones, a kind of tensile strength and focus that rewards sustained attention.