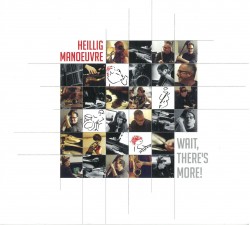 Wait, There's More
Heillig Manoeuvre
Independent HM 6015 (heilligman.com)
The latest incarnation of bassist and composer Henry Heillig's Heillig Manoeuvre continues the shift from the group's earlier more electric sound to the decidedly mainstream bent of Wait, There's More. The constant in the band's evolution has been Heillig's accessible, groove-oriented compositional style. The current group, including longtime Manteca cohort Charlie Cooley on drums, pianist Stacie McGregor and saxophonist Alison Young may be its most compelling lineup to date. Young, who has established herself as an important new player on the scene, brings a confident, fresh voice to the quartet's blend of bebop, blues and funk. McGregor embraces a similar sensibility, occupying both frontline and rhythm section roles with aplomb.
Wait, There's More, the opening tune, highlights Heillig's and Cooley's ease with classic Latin and swing feels. The drum/sax duet off the top of Young's solo is a perfect setup for her soulful, swinging style. McGregor follows suit, complementing the sax solo with her own well-rooted sense of the tradition. Arrangements are the key here and solos are concise and to the point without feeling truncated. Wonky Rhomboid features bass and baritone saxophone over a seven-beat figure that slips momentarily into a fast swing, reminiscent of Mingus' Fables Of Faubus. Young's composition Waltz For Harriet showcases the composer's command of nuance with a nod to Cannonball Adderley's funky exuberance. Groove and fun are the order of the day in this highly satisfying outing.