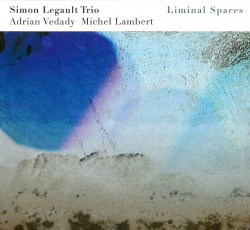 Liminal Spaces
Simon Legault Trio
Effendi Records (effendirecords.com)
Simon Legault's previous album was titled Hypnagogia Polis (2017) which referred to a transitional state from wakefulness to sleep and featured a quintet. Liminal Spaces (2019) is a trio album which includes Adrian Vedady on electric and acoustic bass and Michel Lambert on drums. Liminal means "relating to a transitional or initial stage of a process." Therefore the theme of "transitions" can explain many of the melodic and compositional elements of his work. Legault's guitar playing is both clean and precise and includes a spacey quality that hints at other worlds and explorations beyond the immediacy of the groove.
Many of the pieces seem to have evolved from improvisations and work organically through several organizing ideas or movements. The opening Liminal Spaces contains many rubato portions which draw on Legault's melodic scampering; a pastiche of percussive nuances from Lambert provides a nuanced and shifting backdrop. Solus I, II, III and IV are shorter solo guitar works that explore a variety of melodic and harmonic ideas, all in relatively free time. On the other hand, Inflexion has a solid groove and a harder bop feel which Vedady and Lambert accentuate with great ensemble backing. Interwoven's title could refer to the opening contrapuntal interplay between guitar, bass and drums which propels us forward to the busier middle section that showcases some excellent and articulate guitar chops leading to a thoughtful bass solo.
Legault's "process" works to create a fascinating album that is introspective with bursts of melodic and rhythmic intensity.