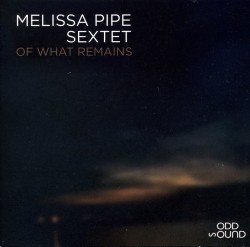 Of What Remains
Melissa Pipe Sextet
Odd Sound 005-28 (melissapipe.com)
Sporting a highly appropriate name for a reeds player, Montreal-based baritone saxophone/bassoonist Melissa Pipe's disc is refined chamber jazz with an emphasis on darker textures. That's because timbres arise not only from Lex French's trumpet, Geoff Lapp's piano and Mili Hong's drums but also from lower tones encompassing Solon McDade's double bass, Philippe Côté's bass clarinet and tenor saxophone plus Pipe's larger horns. It deepens even more when Michael Sundell's contrabassoon is added on three tracks.
Most notable of these is the multi-sectional Ici, ainsi that moves slowly over drum rumbles and a walking bass line before portamento trumpet and saxophone breaks give way to a mellifluous double bassoon expression that moves up the scale while the pulse stays horizontal. Eventually reed stress turns to decorations as drum rim shots and piano comping complete the piece. More overt chamber jazz affiliations arise on a track like Day, where a dramatic undercurrent which harmonizes a snarling bassoon ostinato with plunger trumpeting remains constant as keyboard clinking outlines the balladic theme.
Other tracks such as La part des anges and Apothecium. are arranged with a light West Coast jazz feel. yet they're also distinctive. That's because these otherwise straight-ahead foot-tappers that climax with modal blends of baritone saxophone smears and sparkling pianism are interrupted when French interjects Maynard Ferguson-like skyscraper-high triplets into the mix.
This sophisticated and promising debut leads us to anticipate her realization of the next musical Pipe dream.