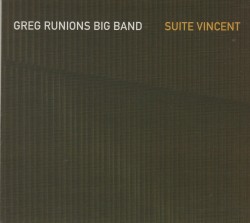 Suite Vincent
Greg Runions Big Band
Independent Grind 2019 (gregrunions.net)
With the release of this superbly conceived, performed and recorded big band project, vibraphonist/composer/arranger Greg Runions has fashioned a magnificent musical celebration of the iconic, late Canadian trumpeter/composer/arranger Kenny Wheeler. To realize his concept, Runions built upon his longstanding septet, and also created a "live-off-the-floor experience" by recording in the studio of the Isabel Bader Centre for the Performing Arts. Wheeler was an unassuming, ego-less, gentle genius, who would no doubt be incredibly honoured by this inspired six-movement musical tribute.
The skilled A-list cast includes Andrew Rathbun, Tara Davidson and Bob Leonard on reeds/saxophones; John MacLeod, Brian O'Kane and Jason Logue on flugelhorn and trumpet; William Carn on trombone; Brian Dickinson on piano; Mike Cassells on drums; Dave Barton on guitar; Artie Roth on bass and the lithe vocals of Yoon Sun Choi, channeling Wheeler's longtime collaborator, Norma Winstone – particularly on the vocal feature The Long Way (which also displays Dickinson's moving, emotionally vulnerable and technically thrilling piano work).
The project opens with Chorale for Ken, composed by Runions in 1992, a stirring brass choir followed directly by Bass Interlude – an intricate and stunning bass solo by Roth. Wheeler's profound influence as a seminal jazz composer and trumpeter saturates this arrangement of Bitter Tart, as does the exquisite flugelhorn work by MacLeod. Another stunner is Around About, featuring Barton with Davidson on alto and O'Kane on trumpet. The final Suite, Jeckle & Clyde, includes a nod to the more free aspects of Wheeler's style, and Rathbun's lush tenor incites the rest of the ensemble into gorgeous solos and heavenly, contrapuntal ensemble work.