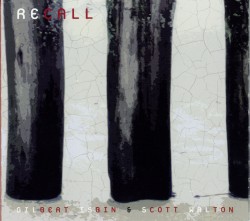 Recall
Gilbert Isbin; Scott Walton
pfMENTUM CD073
pfmentum.com
Very little contemporary music has been written for the lute. While the guitar has been featured prominently throughout the 20th century, the lute can often feel like it belongs to another era entirely. Gilbert Isbin seeks to remedy this with his latest disc. Recorded in October of 2011, Recall features Isbin on lute and Scott Walton on bass.
The disc contains a series of short compositions and improvisations. Although much of the material is thematically linked, each piece begins to feel like its own short story. Interplay is emphasized here with both performers skilfully manoeuvring between composed sections and more freely improvised passages. This is evident on the track Pensive, with Isbin laying down a harmonic foundation for Walton's extended bowing techniques. The result is akin to a short piece by Morton Feldman. Timbre is important throughout the set and delicate unison passages can often give way to more turbulent textures. Flutter is a good example of this, with the duo settling into a groove before evolving naturally into a section of free improvisation. This configuration allows for a great deal of space in the music that each performer seems comfortable exploring. Overall, this is a very engaging set from two creative musicians.