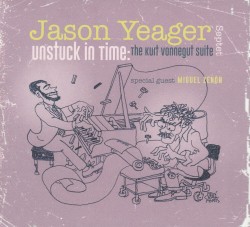 Unstuck in Time: The Kurt Vonnegut Suite
Jason Yeager Septet w/Miguel Zenón
Sunnyside Records SSC 1672 (sunnysiderecords.bandcamp.com/album/unstuck-in-time-the-kurt-vonnegut-suite)
Kurt Vonnegut was a satirist, science fiction writer and outsized personality who is still quoted and revered long after his death. The pianist and composer Jason Yeager has been a huge fan for years and had composed several jazz pieces inspired by Vonnegut's writing. Unstuck in Time (named after Billy Pilgrim's condition in Slaughterhouse-Five) is a compilation of these pieces released to honour the author's 100th birthday.
All the works are lively, build off Vonnegut's idiosyncratic narratives and characters and utilize Yeager's septet which, in addition to the rhythm section, contains combinations of saxophone, clarinet, trumpet, trombone and vibraphone. Blues for Billy Pilgrim has a wistful feeling, with a Thelonious Monk-like melody with a rowdy trumpet solo. Bokonon opens with a delightful hip-hop vibe and features a vivacious staccato alto sax performance by Miguel Zenón. Kilgore's Creed begins with the band chanting (from the novel Timequake) "You were sick, but now you are well again and there's work to do" before working into a jazz polka rhythm, overlaid with excellent ensemble playing and solos.
Unstuck in Time is everything Vonnegut would have loved: eclectic and sensitive compositions and performances that show how jazz can have a lot of fun while paying homage to an artistic hero.