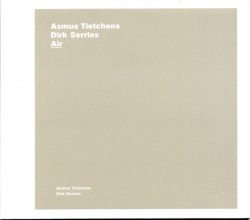 Air
Asmus Tietchens; Dirk Serries
New Wave of Jazz nwoj 0026 (newwaveofjazz.bandcamp.com)
Not lighter than air, but certainly as omnipresent, Air is a singular instance of what could be termed brazen (un)ambient music. Belgian Dirk Serries improvised sounds on accordion, concertina, harmonica, melodica and clarinet, which were then used as source material manipulated, splintered and sewn together again by the computers and electronics of German composer Asmus Tietchens. The result is a collection of six tracks that challenge much more than they soothe.
On a sequence like Air Akkordeon for instance, as tremolo accordion reaches a juddering crescendo that spreads over the track like jam on toast, fragments of those vibrations, treated by Tietchens' computer, are reflected mirror-like back into the mix, moving with hints of aviary whistles that hover alongside Serries' initial tones, before both glide away.
That type of scenario evolves throughout the disc, as wafting clarinet quivers confront Big Ben-like repetitive chiming or minimalist concertina squeezes and/or harmonica breaths mix with whispery vocal-like echoes that ascend to ululating choral refrains. Carefully layered through granular synthesis and pitch manipulations, these congruent tones transcend solo instrument-like resemblance, to become mechanized or otherworldly-like vibrations by the final Air Klarinette 2. Becoming louder and more diverse, the layers of interspaced oscillations negate "real" or "treated" origins to become almost symphonic with impressionistic colourations.
Overall though, what's also distinctive about Tietchens' and Serries' program is that kernels of impulsive audacity and strength can be heard beneath the unfolding ambience.