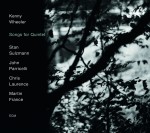 Though Kenny Wheeler emigrated to Britain in the 1950s, few made his ongoing contribution to jazz in Canada, from teaching at the Banff Centre and recording with the Maritime Jazz Orchestra to performing in between – and no Canadian jazz musician has been a greater stylistic influence around the world – from his distinctive leaping lines and subtly expressive pitch mutations to the spacious invention of his compositions. Wheeler passed away in September 2014 but was already in ill-health in December 2013 when he recorded Songs for Quintet (ECM 2388, ecmrecords.com). It's typical Wheeler, here surrounded by his quintet of London regulars, the powerful tenor saxophonist Stan Sulzmann, the spare and glassy toned guitarist John Parricelli and the rhythm section of Chris Laurence and Martin France, so quietly buoyant as to be almost invisible. That's one of the special qualities of a Wheeler performance, a kind of musical intimacy that suggests a man at home composing, playing the piano or flugelhorn, looking out the window, then suddenly illuminated by an epiphany, some confluence of memory, climate and mood, some revelation that transforms the quotidian. Wheeler's breath and embouchure may be less secure than they once were, but that rare vision is intact throughout this CD, a final gem in a brilliant discography.
If classical music and jazz have intersected in a thousand different ways, the meeting has rarely been as comfortable as John Roney's Preludes (Effendi FND138, effendirecords.com). In an hour-long program, the pianist blurs the lines between interpretation and improvisation, stretching the contours and harmonic vocabularies of a series of classical preludes by Bach, Gershwin, Debussy, Chopin and Scriabin, with Duke Ellington's Prelude to a Kiss included to further the range. There's a romantic sweep to much of the music, a passion for melody that will press a piece into another idiom. An opening prelude from Bach's Well-Tempered Clavier stretches to impressionism, a closing one to boogie-woogie. Debussy, Chopin and Scriabin have influenced the greatest jazz pianists (Art Tatum, Bud Powell, Bill Evans) to such an extent that it seems perfectly natural to hear them extended in such a fluid way.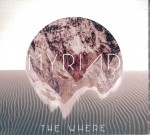 It's been two years since Tell, the debut of Myriad 3, and the trio of pianist Chris Donnelly, bassist Dan Fortin and drummer Ernesto Cervini continues to develop a distinctive style onThe Where (Alma ACD61742, almarecords.com), fusing classical and pop elements in a traditional piano trio. The band's identity hinges on the shared composing strengths of its members, each of whom brings an almost orchestral palette to the trio. The group's sonic breadth is further enhanced by the band's prodigious doubling: both Donnelly and Fortin employ synthesizers, while Cervini overdubs four woodwinds on his own der Trockner. There's a distinctive direction evident from Donnelly's First Flight, propelled by a rhythmic force that suggests art rock bands like King Crimson, and it's just as palpable at the CD's conclusion with Fortin's looming, brooding Don't You Think.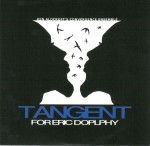 Eric Dolphy was an essential catalyst in the free jazz revolution of the 1960s. A brilliant multi-reed player, he made vital contributions to the music of John Coltrane, Ornette Coleman and Charles Mingus, among others, helping to shape a generation. 2014 was the 50th anniversary of his death and among the commemorations is Tangent (for Eric Dolphy) by Ken Aldcroft's Convergence Ensemble (Trio Records TRP-020, kenaldcroft.com/triorecords.asp). True to Dolphy's innovative spirit, guitarist Aldcroft pursues his own course (only the theme of Section VI strongly suggests Dolphy's compositions), supplying composed materials to his band who are free to initiate and combine them, extending the freedom of improvisation while developing specific ideas. The spirit of group creation is strong and the results are consistently engaging, with complex dialogues involving all concerned, including trombonist Scott Thomson, bassist Wes Neal, drummer Joe Sorbara and new arrival Karen Ng on alto saxophone. Her finest moments arise in the cool fire of Section V.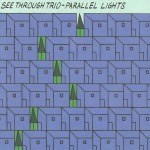 Karen Ng has rapidly become a significant presence at the creative edges of Toronto jazz. In 2014 she also joined See Through Trio, a project founded in 2004 that includes pianist Tania Gill and bassist Pete Johnston. Devoted to Johnston's angular and elusive compositions, Parallel Lights (Woods and Waters Records WW008, seethroughtrio.bandcamp.com/album/parallel-lights) evokes the music of the Jimmy Giuffre 3 circa 1961, a kind of minimalist free jazz at chamber music dynamics that featured compositions by Carla Bley. In the same spirit, See Through Trio creates quietly involving, thoughtfully deliberated music. It's a "hear through" trio, one in which every note of Ng's light, Lee Konitz-like alto timbre and Gill and Johnston's sparse, linear work is in sharp relief, even on the relatively animated Never the Right Angle.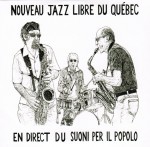 Montreal's Bronze Age Records is releasing new music on vinyl LPs, part of a widening movement convinced of the medium's sonic superiority. One of its first releases further invokes the golden age of vinyl: En Direct du Suoni per Il Popolo (Bronze Age Records, bronzeagerecords.com) presents Nouveau Jazz Libre de Québec, a descendant of Quatuor Jazz Libre de Québec, the group that combined the liberating messages of free jazz and Quebec nationalism in the mid-60s. The original band's sole survivor, drummer Guy Thouin, combines here with saxophonists Bryan Highbloom (tenor and soprano) and guest Raymon Torchinsky (alto) to create raw, energetic free jazz with all the emotional power that marked it in the 1960s. Thouin's machine-gun snare and restless tom-toms drive the saxophones forward, whether it's a distinctive take on Monk's Bemsha Swing (here reconfigured as Bemsha Swingish) or the original Theme 25ieme Avenue.