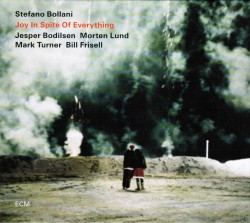 Joy in Spite of Everything
Stefano Bollani
ECM 2360
Stefano Bollani belongs to a bel canto school of Italian jazz musicians, like the superb trumpeter Enrico Rava, with whom he has worked extensively, and fellow pianist Enrico Pieranunzi, who has brought a heightened timbral grace to the harmonic style of Bill Evans. Further, the German ECM label has long recorded pianos with rare sonic allure. That combination may assure surface beauty, but there's more here than that. Bollani is joined by his usual partners, bassist Jesper Bodilsen and drummer Morten Lund, along with two American masters of nuance and tone, tenor saxophonist Mark Turner and guitarist Bill Frisell, the five exploring formats that range from duo to full quintet.
The title may tell all: the music is usually joyous (conspicuous from the opening calypso Easy Healing) but it's an insistent joy, earned in the rich depths and contradictions of experience. The group has a collective ability to deal lightly with complexity, evident in No Pope No Party with its distinct and playful mix of 50s cool jazz and contemporary angularity. It's apparent as well in Bollani's trio feature, Alobar e Kudra, as he ranges from the limpid to the crisp.
It's ultimately the sense of dialogue and shared vision, though, which gives this music its depth, apparent on Las Hortensias, Bodilsen's bass line rising to entwine with saxophone and piano, and on Ismene, where guitar, piano and drums create liquid pools of light.