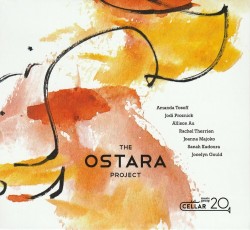 The Ostara Project
Amanda Tosoff; Jodi Proznick; Allison Au; Rachel Therrien; Joanna Majoko; Sanah Kadoura; Jocelyn Gould
Cellar Music CM021422 (cellarlive.com)
I listened to this album in its entirety several times before reading Lisa Buck's eloquent liner notes, and I think I may make a habit of this order of events moving forward. Groups that are formed as "collectives" or "projects" can often struggle to program a cohesive set of music or an album's worth of material, but not The Ostara Project. From the track titles to the songs themselves, and even the album's design and artwork, there is an uplifting theme to the seven original tracks and one arrangement we are presented with. This is not an uncommon feeling among debut recordings, but it manages to feel more poignant when expressed during the turbulent times we are in globally.
Delta Sky starts the album off with a catchy groove and excellent interactions between soloists and the rhythm section. Bassist Jodi Proznick and drummer Sanah Kadoura are the core of this rhythm section, with pianist Amanda Tosoff and guitarist Jocelyn Gould alternating harmonic duties throughout the recording. Delta Sky is saxophonist Allison Au's only composition credit on the album, but she contributes beautifully phrased melodies and sophisticated motivic solos to the remaining tracks too.
Another compositional highlight is the contrasting and conversational Lluviona by trumpeter Rachel Therrien. There are some moments of collective improvisation here, contrasting the groovy preceding numbers and subsequent ballad Tides are Turning. Joanna Majoko does a superb job bringing life to the lyrics heard on The Ostara Project and she penned a rhythmically intriguing arrangement of the standard Bye Bye Blackbird.
There is plenty more to say about the musicianship brimming from this album, but I encourage you to listen for yourself.