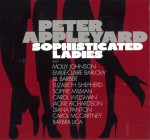 Sophisticated Ladies
Peter Appleyard; Molly Johnson;
Emilie-Claire Barlow; Jill Barber;
Elizabeth Shepherd; Sophie Milman; Jackie Richardson; Diana Panton;
Carol McCartney; Barbra Lica
Linus 270151
The veteran American bass player Charlie Haden released Sophisticated Ladies, a collection of songs covered by contemporary, mostly American, female jazz singers, in early 2011. (See my January 2011 review) Now veteran Canadian vibraphonist Peter Appleyard has released a CD called Sophisticated Ladies that is a collection of songs covered by mostly Toronto-based female jazz singers.
Whether the mimicry was deliberate or not, comparison is difficult to avoid. Both discs feature solid musicianship from the singers (such as Jackie Richardson, Emilie-Claire Barlow and Jill Barber in this case) and players (Appleyard is joined by Reg Schwager, Neil Swainson, Terry Clarke and John Sherwood), but where the Canadian version pales a bit is in the song choices, which are predominantly well-worn standards. The arrangements are all straightforward, jazzy treatments with few musical curveballs, so it all adds up to a pleasant, swingy listen. This would make a fine addition to a CD collection for anyone wanting a sampler of current Canadian jazz singers.