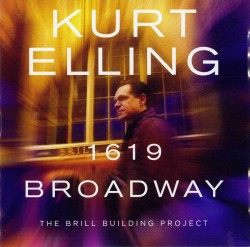 1619 Broadway – The Brill Building Project
Kurt Elling
Concord Jazz CJA-33959-02
When I first heard that Kurt Elling was turning his cerebral musical sights on songs from the Brill Building era for his next album, I couldn't imagine how the two very different styles would come together. The BrillBuilding was a musical factory known for churning out teen-oriented pop hits in the late 50s and early 60s from resident songwriters such as Jerry Goffin and Carole King, Barry Mann and Cynthia Weil and Neil Sedaka.
Kurt Elling is a true jazz singer; a hep cat who takes a serious and sometimes ponderous approach to music, often with stunning results. So hearing his take on fluffy tunes like You Send Me and Pleasant Valley Sunday is an exercise in open-mindedness for listeners familiar with the original versions.
1619 Broadway: The Brill Building Project is no trip down memory lane – these songs have, for the most part, been completely and successfully re-imagined. Working with his longtime collaborator, pianist Laurence Hobgood, guitarist John McLean, bassist Clark Sommers and drummer Kendrick Scott, Elling plays with tempos and enriches harmonies at every turn. The most effective arrangements are those that stay true or add additional depth to the original meaning of the song, despite musical wanderings, like the taut, striving On Broadway and I'm Satisfied with its swingy groove. Best, though, are the more straightforward and expressive approaches such as I Only Have Eyes for You, So Far Away and American Tune. Nobody can touch Elling when it comes to delivering a beautiful ballad.
Kurt Elling and his quintet play the Living Arts Centre in Mississauga, March 22, 2013.