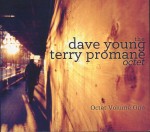 Octet Volume One
Dave Young; Terry Promane
University of Toronto
Recorded at Drive Shed Studio, Toronto, May 24 and 25, 2012, with Kevin Turcotte, trumpet/flugel horn; Vern Dorge, alto saxophone; Mike Murley, tenor saxophone; Terry Promane, trombone; Perry White, baritone saxophone; Gary Williamson, piano; Dave Young, bass; Terry Clarke, drums.
A look at the line-up of this band tells you right off that you can look forward to some great playing, and this CD will certainly live up to your expectations. The music consists of three originals, two composed and arranged by Terry Promane, one written and arranged by Rick Wilkins, and seven jazz standards.
When I say jazz standards I don't mean songs from the golden age of popular song, but compositions by jazz musicians which have over time become musicians' standards. They are arranged by Dave Young and range from the Dizzy Gillespie classic A Night In Tunisia, through Stompin' At The Savoy to Better Git It In Your Soul by Charles Mingus. Along the way there is a lovely version of Thad Jones' To You.
The musicianship and creativity shown by this top notch group make it hard to single out any one member, but I have to say that for me it is particularly satisfying to hear the playing of Gary Williamson. He is respected by fellow musicians but his talents far exceed his level of recognition with the jazz public. If you like interesting well-arranged numbers played by outstanding players who understand where the music comes from you can buy this recording online at Indie Pool, CD Baby or iTunes.