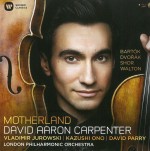 When a new recording of the Bartók Viola Concerto crossed my desk recently it immediately caught my attention. Begun in 1945 and left incomplete at the time of his death – actually it was just a few sketches – this was the composer's final composition. Although in the words of Grove's Dictionary of Music and Musicians Bartók's assistant Tibor Serly's completion of the concerto "cannot be considered definitive," it has always been a favourite of mine. Motherland (Warner Classics 0190295697693 warnerclassics.com) features young superstar violist David Aaron Carpenter performing concertos by Dvořák, Bartók and Walton, plus a number of concerted works by Kiev-born, New York City resident Alexey Shor (b.1970) with the London Philharmonic Orchestra.
Carpenter, born in NYC in 1986, has had a remarkable career, winning the 2005 Philadelphia Orchestra Young Artists Competition, the Walter W. Naumburg Viola Competition the following year and an Avery Fisher Career Grant in 2010. His first recording, Elgar and Schnittke concertos, was praised highly in these pages in October 2009 by Terry Robbins, and two subsequent outings met with similar attention in Robbins' Strings Attached column in recent years. With that in mind, I had no qualms about holding back Carpenter's latest recording for my own collection. Of course I had to start with the Bartók, and I was immediately transported back to the heights I first scaled when introduced to this work by Yehudi Menuhin's performance with the Philharmonia Orchestra under Antal Dorati's direction half a century ago. We'll likely never know just how much of this atypical work is Bartók's and how much that of Serly. Strangely though, it is a much more original work than Serly's own Rhapsody for Viola and Orchestra which is replete with borrowings from his master. Carpenter's stunning performance reminds us why, its questionable pedigree notwithstanding, this concerto is a staple of the viola repertoire.
The first CD (of two) opens with Joseph Vieland's transcription of Dvořák's masterful Cello Concerto, to which Carpenter has added his own refinements. It is very effective, but as a cellist I can't help but notice that the power and anguish of the cello's upper register, its chanterelle range, is not equalled when the viola plays the same pitches. That being said, it is still a captivating performance, with the orchestra under Kazushi Ono in fine form. Especially noteworthy are the horn solos. The second disc begins with William Walton's concerto, which was commissioned by Lionel Tertis in 1929. Tertis was not convinced and declined to premiere the work but later, in words of Andrew Morris "was good enough to admit his mistake." Tertis said: "The innovations in [Walton's] musical language, which now seem so logical and so truly in the mainstream of music, then struck me as far-fetched." To our modern ears it seems hard to imagine this lush and romantic work being received as anything but a masterpiece.
There is more than an hour of music by Shor dispersed across the two discs, and frankly I don't know why. The inclusion of his Seascapes, a four-movement work for viola and orchestra, would have more than sufficed. His motion-picture soundtrack sensibility makes even the Dvořák and Walton sound modern, and the 13-movement Well Tempered Chanson, a compendium of encores written for Carpenter, seems like just too much dessert. The Bartók, however, is worth the price of admission.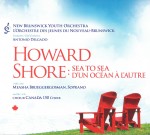 Speaking of film scores and people named Shor(e)… last year Canadian superstar film composer Howard Shore took time out from his day job to compose a celebratory cantata to honour Canada's sesquicentennial. Sea to Sea/D'un ocean à l'autre was commissioned by the New Brunswick Youth Orchestra (nbyo-ojnb.com) and was first performed on July 2, 2017 at the Canada 150 Stage, Riverfront Park, Moncton. That performance featuring New Brunswick's pride and joy, soprano Measha Brueggergosman, and the Choeur CANADA150 Choir was recorded and is now available from Leaf Music (LM217 leaf-music.ca). With bilingual lyrics by Elizabeth Cotnoir, the nine-minute work opens with a horn fanfare to set the stage and then launches into jubilant praise for our fair land. After the bombastic opening there is a contemplative middle section gently declaring "We hold a vision." The final section is a return to the opening exuberance, this time en français. The CD single also includes two "radio edit" versions, just under three minutes each, one in English and one in French.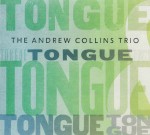 The latest project from the 2016 Canadian Folk Music Awards Best Instrumental Group of the Year – Andrew Collins Trio – is the cleverly named pair of CDs Tongue and Groove (andrewcollinstrio.com). The first is a departure for the band, with 11 tracks featuring lead vocals by multi-mando frontman Collins for the most part, with harmonies and occasional lead lines provided by bass player James McEleney. The third member of the trio, Mike Mezzatesta, keeps busy on guitar, mandolin, fiddle and mandola.
It's an eclectic collection of traditional "down homey" numbers, novelty songs, cover versions and a few originals. Of particular note are Collins' own reworking of Marijohn Wilkin and Danny Dill's Long Black Veil and Roger Miller's The Hat. But for me it is the instrumental disc Groove that really shines. Replete with some of the finest bluegrass pickin' you're likely to find this far north, there's also a mix of styles, including some very Django-like vibes to which the double strings of Collins' mandolin give a new twist, a beautiful lullaby and a couple of fiddle tunes. Standouts include Poplar Bluff, Kentakaya Waltz, Badabada Ba Ba and Big Toaster.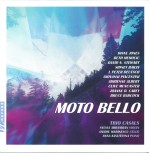 It seems that every month we receive a dozen or more CDs from the Parma Recordings group, which includes the labels Ravello, Big Round, Asonica and, in this case, Navona Records. Although my current activities as an amateur cellist are focusing on string-only ensembles, quartets and at the moment a trio, for many years I also played with pianists in the traditional piano trio formation – violin, cello and piano. Beginning with the classics, Mozart, Beethoven, Mendelssohn (Felix and Fanny), Schumann (Robert and Clara), but eventually moving into the 20th century with Debussy, Shostakovich and contemporary Canadians including Colin Eatock and Daniel Foley – both of whom will be familiar to readers of The WholeNote – I spent countless hours exploring the repertoire with friends. So I was quite interested when a new double CD from Trio Casals, Moto Bello (nv6156 navonarecords.com) arrived. The Moto series "represents a curated collection of contemporary music by living composers with the traditional instrumentation of the acclaimed Trio Casals." The group's acclaim began in 1996 at the Pablo Casals Festival in Puerto Rico, from which I assume their name derives. There are ten composers included in this two-disc package, none of whom were previously known to me. The repertoire runs the gamut of contemporary styles, from approachable melodic works, through minimalism to craggy modernist sensibilities, and although most utilize the full trio resources, there are several solo and duo pieces. Of particular note is Beth Mehocic's Somewhere Between D and C# for solo cello, with its exploration of ambiguous resolution. L. Peter Deutsch's Ocean Air is a lovely suite in three movements harkening back to the late 19th century. Giovanni Piacentini's Ondine begins in quiet Debussy-like arpeggiation that gradually builds into a stormy tempest before calming to gentle seas again. Each of the ten composers brings an individual voice to the medium, making for a varied and satisfying program. The playing is convincing and committed throughout. I was especially impressed by how complete the package was: a simple folded cardboard cover containing two CDs and a 12-page booklet with composer bios and program notes. I only wish that there was more information about the trio itself, and that the composers' names were more discernable – pale blue type on a blue background is hard to read.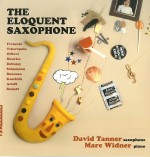 Another Navona recording that arrived recently looked strangely familiar to me. The Eloquent Saxophone featuring Toronto (now Cobourg) saxophonist, professor and founding member of the pioneering band Lighthouse, David Tanner and pianist Marc Widner (nv6158 navonarecords.com). It's a charming collection of mostly French repertoire from the early 20th century, but also including more recent works by American Leslie Bassett and Gene DiNovi – a saxophone ensemble piece achieved through overdubbing the various parts. The disc begins with another saxophone quartet, the aptly named Serenade comique by Jean Françaix. Although most of the works were written for the saxophone, there is an effective transcription of Debussy's Syrinx (originally for solo flute) in a warm and thoughtful rendition. Widner is the perfect accompanist for this repertoire, whether playing original piano lines or, in the case of Paule Maurice's Tableaux de Provence, subbing for an entire orchestra. Also of note is Charles Koechlin's Etude No.VIII from a set of saxophone and piano studies that were not published until 1970, 20 years after the composer's death. The credits tell us that the recordings were made in 1988 in Toronto, the multi-tracking at Axon Music Productions and the rest in Walter Hall. That's when I figured out what was so familiar. I checked my file card catalog of LP recordings, and sure enough, I have the original vinyl version of this disc put out on Apparition Records. Even the cover art is the same. The brief performer bios have been updated nominally and the order of the tracks has been modified – it used to start with Syrinx – but with the exception of the program notes, unfortunately missing from the CD reissue, the recording is the same. It was a welcome addition to my collection three decades ago, and it is welcome again now.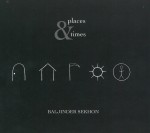 One final note, an intriguing percussion-centric disc of music by Baljinder Sekhon. Places & Times (innova 988 innova.mu) is, in the words of the composer, "no ordinary album of percussion ensemble music. These compositions explore a wide spectrum of possibilities offered by the percussion family, from the aggressive noise of a cymbal on piano strings and peaceful meditations created by finger cymbals gently buzzing on a vibraphone, to the curious thump of a person falling on a bass drum." The disc features three percussion ensembles: Los Angeles Percussion Quartet; McCormick Percussion Group and Line upon Line Percussion. Three of the tracks include soloists: Dave Gerhart, steel pan; Dieter Hennings, guitar and Eunmi Ko, piano. Musica Casera, a 12-minute track that features guitar holding its own against a battery of percussion instruments, through delicate passages and thunderous sections, is particularly captivating. Another highlight is Sun for three percussionists all equipped with similar outfits: one keyboard, one skin, one wood and one metal instrument. They all share access to a large cymbal in centre stage, presumably the namesake of the piece. Despite similar resources, the combinations provide a very broad spectrum of sound and range.
We welcome your feedback and invite submissions. CDs and comments should be sent to: DISCoveries, WholeNote Media Inc., The Centre for Social Innovation, 503 – 720 Bathurst St. Toronto ON M5S 2R4. We also encourage you to visit our website, thewholenote.com, where you can find enhanced reviews in the Listening Room with audio samples, upcoming performance details and direct links to performers, composers and record labels.
David Olds, DISCoveries Editor
discoveries@thewholenote.com