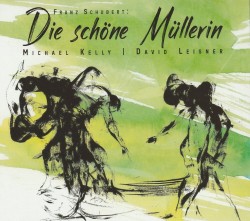 As a folk singer of sorts I was intrigued to read somewhere that Franz Schubert sometimes accompanied his songs on guitar. For several issues now I've meant to write about a new version of Die schöne Müllerin but each time I've run out of space, or it just didn't seem appropriate to the theme of the column. Guitarist David Leisner has adapted the original piano score for guitar and is joined by baritone Michael Kelly in a compelling performance (Bright Shiny Things BSTC-0175 brightshiny.ninja). I wrote back in December that the lack of texts for Victoria Bond's song settings on the album Blue and Green Music was not an issue due to Kelly's clear diction. I'm sure if I were conversant in German the same would be true in the case of the current recording, but as I'm not I'm glad that there is a QR code linking to full lyrics and translations. Leisner's clever adaptation of the accompaniment and his clear and fluent playing provide a transparent, yet supportive framework for Kelly's nuanced interpretation. The sparser textures produced by the guitar allow Kelly to really shine, especially in the tender, quieter moments, without compromising the effect of the more dramatic sturm und drang aspects of the song cycle.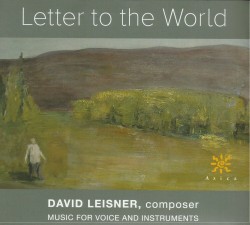 It seems that, like me, David Leisner got his start singing folk and pop songs, accompanying himself on guitar as a teenager. As his horizons expanded through choral singing and composition studies, he established himself as an accomplished classical guitarist and composer, with a focus on art song. On Letters to the World (Azica ACD-71353 davidleisner.com/composition-recordings) we are presented with four examples of this spanning the 1980s to 2011. The disc opens with Confiding, a cycle of ten songs for soprano and piano, featuring Katherine Whyte and Lenore Fishman Davis, with texts by Emily Dickinson and Emily Brontë, four each, and single offerings from Elissa Ely and Gene Scaramellino. The disc's title is taken from the final song of the cycle, Dickinson's This is my letter to the World (That never wrote to Me). Dickinson is also the source of the texts of Simple Songs from 1982, for baritone and guitar featuring Michael Kelly and the composer. Leisner chose (and rendered into English for the programme booklet) five selections from Richard Wilhelm's German translation of Lao Tzu's Tao te Ching for the cycle Das Wunderbare Wesen (The Miraculous Essence) for baritone and cello. Leisner says, "The songs emerged less out of deference to the melodic line and more in response to a structure established in the cello part, e.g., a repeated alternating metric pattern or a melodic theme that is repeated in the fashion of passacaglia throughout a movement." Once again Kelly shines, in equal partnership with cellist Raman Ramakrishnan. The final track is the powerful Of Darkness and Light, written in response to the 9/11 tragedy. Leisner says, "To 'know the light' and 'know the dark' is essential, especially in times of trouble." Of Darkness and Light uses five poems by Wendell Berry written between 1968 and 1970 which the composer found to "have special resonance in 2002 as well." Set for tenor, violin, oboe and piano, this moving performance features Andrew Fuchs, Sarah Whitney, Scott Bartucca and Dimitri Dover respectively, drawing this intimate composer-portrait disc to a successful close.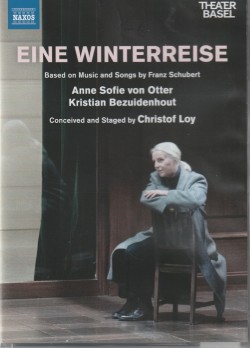 Schubert's songs have been subjected to many diverse interpretations and adaptations over the past two centuries. One of the most effective that I have had the pleasure to witness was Chimera Project's Winterreise featuring bass baritone Philippe Sly as staged during the 21C festival at Koerner Hall just a couple of months before the COVID lockdown in 2020. I have just encountered another intriguing evening-long production conceived and staged by Christof Loy for Theater Basel. Eine Winterreise (A Winter Journey) features soprano Anne Sofie von Otter accompanied by pianist Kristian Bezuidenhout and a sparse cast of silent characters representing various aspects of the drama (Naxos DVD 2.110751 naxos.com/Search/KeywordSearchResults/?q=Eine%20Winterreise). Loy writes, "Anne Sofie plays the soul of Schubert in a kind of fictionalized account of the composer if he had lived to grow old rather than dying so young. Other characters gather round her, played by non-speaking actors and dancers. Like shadows from the past, inspired by Schubert's biography. There is a double who is kind of a younger mirror image of the 'mature Schubert' – a melancholy soul for whom life is complex in its beauty but also in its difficulty. The other man, Schober, is based on Schubert's friend, a reckless young man with a freewheeling lifestyle who […] a number of biographers even accuse of having taken Schubert to the prostitute who gave him the syphilis infection that killed him. In this sense, the courtesan in A Winter Journey is associated with death though conversely she's also full of vitality. The other female character, whom we christened Viola, imparts a gentle, hopeful strength to the whole production." Stand alone songs – the play opens with Die Sommernacht – and selections from the cycles Schwanengesang and Winterreise, are interspersed with solo piano works and text fragments taken from Schubert's Mein Traum, often with dramatically choreographed accompaniment. The evening ends quietly and mournfully with the beautiful Des Baches Wiegenlied (The Brook's Lullaby) from Die schöne Müllerin as snow falls on the darkened set and the cast slowly disperses into the night. There is a momentary respite from the gloom as von Otter steps out of character and recites Wilhelm Müller's sardonic epilogue from that cycle of poems arresting the audience's suspension of disbelief and bidding them a safe journey home. A stunning performance.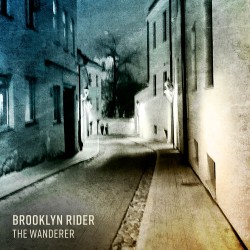 One of the most striking usages of Schubert's music in another medium is Ariel Dorfman's play Death and the Maiden which he later adapted for Roman Polanski's 1994 mystery-drama film. But it was Schubert himself who first reinterpreted his 1817 song Death and the Maiden and used it as the theme for a set of variations in the slow movement of his 1826 String Quartet No.14 in D Minor. It is this work which is the cornerstone of a new (digital only) release by Brooklyn Rider, a New York-based string quartet, titled The Wanderer (In A Circle Records ICR025 brooklynrider.com). The title refers to another Schubert lied that the composer incorporated into a late work, the devilishly difficult Wanderer Fantasy for solo piano. The album is "bound together by the dualities of memory and remembrance, melancholy and bliss, old and new, and life and death" made all the more poignant by the fact that the disc is a recording of a live performance in eastern Lithuania shortly after the Russian invasion of Ukraine. It opens with Aroma a Distancia, a work composed for the quartet by Gonzalo Grau. The composer lived the first 20 years of his life in Venezuela before moving to the United States. He says, "the aroma, the remembrance of my past, is what makes me who I am today. After all, it often happens when I am in Venezuela, I miss Madrid or New York, or if I'm in Boston I miss Caracas." The brief work incorporates flavours from these various influences. Another South American transplant, Argentinian Osvaldo Golijov's Um Dia Bom (A Good Day) "depicts the story of a life from morning to midnight and beyond, but as told to a child" with movements titled Hovering in the Cradle, While the Rain, Around the Fire, Riding with Death and Feather. Acknowledged influences include a traditional Yiddish song, a sparse painting by Basquiat of a horse carrying the Death Rider, Blind Willie Johnson's song Dark was the Night and the spirit of the late Chick Corea. The crowning glory is a stunning performance of Schubert's masterpiece, his penultimate contribution to the string quartet genre, especially nuanced during the variations on the tune that gives the work its name and the flamboyance of the breakneck galloping horse-like finale.
Banjo is the glue that binds the remaining discs in this column. When I was preparing for retirement from my day job at New Music Concerts four years ago, I began to collect instruments I thought I would enjoy getting to know better, including mountain dulcimer, accordion and banjo. Although I did gather some instruction books, took a few lessons and even learned a few banjo songs, I must admit that when COVID hit and my work at The WholeNote expanded into a near-fulltime job organizing CD reviews to fill the void left by the empty concert halls, my best laid plans fell by the wayside.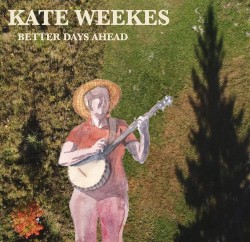 All that is to say that I'm envious of guitarist and singer Kate Weekes who took advantage of her isolation in the Gatineau Hills during the pandemic to learn how to play clawhammer (old-timey, rather than bluegrass style) banjo and pursue new directions in song writing. The result is a new CD, Better Days Ahead (kateweekes.com), featuring ten original songs all penned by Weekes. Although not flashy, there is nothing about Weekes' banjo playing to indicate her neophyte status; the banjo provides rhythmic and harmonic structure to the quirky songs and supports her simple soprano voice lines. She is accompanied by a trio of accomplished musicians who play nearly two dozen instruments, primarily sousaphone and other brass (Brian Sanderson), fiddles, bass and mandolin (James Stephens, who also produced and engineered the disc) and various exotic percussion instruments (Rob Graves). The arrangements are simple and straightforward, always complementing Weekes' singing and not interfering with the clarity of the lyrics. I particularly enjoy the use of sousaphone (marching tuba) for the bass line on most songs. Highlights for me include Liminal Space about sheltering in place; the haunting title work co-written with Brenda Berezan; Floating Face Down, a cryptic and surprisingly upbeat, quasi-English ballad about the narrator's drowning in the Thames "wearing my mother's dress"; and Time by the Moon, a song written during a month-long banjo tune writing workshop hosted by Chris Coole during the late fall of 2021. Videos for these last two can be seen at youtube.com/results?search_query=kate+weekes. It's well worth the visit.
One of my problems with the traditional five-string banjo is trying to get my head around the counterintuitive fact the highest sounding string is on top, whereas on every other stringed instrument I've played it's on the bottom. One day about five years ago I found myself at the corner of Danforth and Broadview where I was met by the intriguing sight of a young man playing a banjo with six strings. I asked if it was tuned like a guitar, and he said yes. Well, I thought to myself, that's cheating! I'd also like to think that I'm not too old to learn a new trick or two, so it was a five-string banjo I eventually bought. I'm still stymied though because when my ear knows a high note is called for, I instinctively pluck the first string instead of the fifth…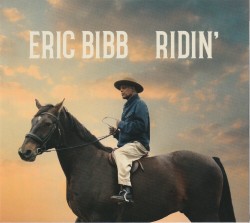 My mother is a big fan of the late Leon Bibb, folksinger, actor and civil rights activist – he marched at Selma with Dr. Martin Luther King Jr. – and through her interest I became familiar with his son, renowned bluesman Eric Bibb. Eric's youth was spent immersed in the Greenwich Village folk scene. Bob Dylan, Joan Baez and Pete Seeger were visitors to his home, and he was deeply influenced by Odetta, Richie Havens and Taj Mahal. Mom and I had the pleasure of seeing him perform at Hugh's Room some years ago and my biggest takeaway from that evening was his statement "I just need one guitar… more!" Imagine my surprise when I watched a video from his new album Ridin' (Stony Plain SPCD1472 stonyplainrecords.com) and saw him playing a six-string banjo (aka banjitar). Bibb plays it more like a blues guitar than a traditional banjo, but the snare drum-like membrane of the banjo head and the hollow round body give it a very distinctive sound.
It this sound that opens the disc in a paeon to kith and kin, aptly titled Family, the lyrics of which nicely sum up the overall message of the album: "I am like you – born of a woman | I am like you – a child of God | You are like me – here to learn from History | You are like me – Family." Bibb says, "As a songwriter, studying African American history has always been a deep well of inspiration. The true stories of my ancestors and their communities are at the heart of many of the songs on my new album. Together with co-writer/producer Glen[vin Anthony] Scott, we've created a concept album focusing on the ongoing task of understanding systemic racism and purging it from our world." The history lessons include songs about the 14-year-old Emmett Till, kidnapped, tortured and lynched in Mississippi in 1955 (the title track); another about the white author who underwent skin pigment transformation to write Black Like Me, and the persecution he faced from his own community as a result in The Ballad of John Howard Griffin; and the destruction of "Black Wall Street" by white mobs in 1921 in Tulsa, Oklahoma in Tulsa Town, among others. These are interspersed with traditional folk songs like 500 Miles and Sinner Man. I cannot find credits for the backup band, but there are a number of identified cameos throughout the album including star turns by Taj Mahal and Jontavious Willis on Blues Funky Like Dat. Bookending the disc is People You Love (People you love pass on, but they're not gone | the ones who love you, stay by your side…) bringing a bittersweet but hopeful portrait of a troubled land to a gentle close.
I see I have not left myself much space for the final disc, TumbleWeedyWorld, the latest from Canadian country icon Lynn Miles (True North Records TND802 lynnmiles.ca). On this, her 16th studio album, the Juno Award-winning and three-time Canadian Folk Music Awards Songwriter of the Year is accompanied by an outstanding band featuring Michael Ball (bass), Joey Wright (mandolin/acoustic guitar), Stuart Rutherford (dobro), Rob McLaren (banjo) and James Stephens (violin). Wright's mandolin is front and centre on one of my favourite tracks Cold, Cold Moon which features Miles' signature octave breaks in the moving melody line. Although at times during the disc I felt that this vocal effect was a little overused, it is particularly moving and effective on Moody, where it borders on yodelling. Julie Corrigan and Dave Draves contribute harmonies on the upbeat Sorry's Just Not Good Enough This Time and dobro and banjo come to the fore in All Bitter Never Sweet with Rebecca Campbell providing duet vocals. This traditional country-flavoured disc comes to a poignant conclusion with Miles in fine voice on the ballad Gold in the Middle.
We invite submissions. CDs, DVDs and comments should be sent to: DISCoveries, WholeNote Media Inc., The Centre for Social Innovation, 503 – 720 Bathurst St. Toronto ON M5S 2R4.
David Olds, DISCoveries Editor
discoveries@thewholenote.com