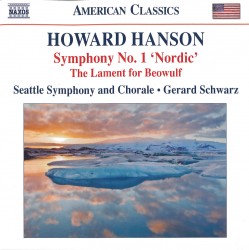 A recent Naxos release of music by Howard Hanson (8.559700) performed by the Seattle Symphony under the direction of Gerard Schwarz caught my attention because of this American composer's inadvertent influence on the history of composed music in our own country. It was Hanson, during a conducting engagement in Toronto in 1937, who encouraged John Weinzweig to enrol at the Eastman School of Music in Rochester where he was the director. Unlike the University of Toronto at the time, Eastman had courses in 20th century music and substantial library holdings and it was here that Weinzweig was exposed to two works which would influence him greatly: Stravinsky's Sacre du printemps and Berg's Lyric Suite. The rest, as they say, is history as Weinzweig went on to become Canada's first important modernist composer and to mentor several generations of composition students. This new disc, a re-issue of an earlier Delos recording, provides a grand introduction to the music of Howard Hanson, featuring the expansive Symphony No. 1 "Nordic" – a kind of homage to Hanson's idol Sibelius – and the dramatic Lament for Beowulf which also employs the Seattle Symphony Chorale. Both works date from the 1920s before the composer had turned 30, yet show a mature command of the medium by a young man who would go on to become one of the most lyrical symphonists of his time. I notice that Naxos has just released the next instalment in Hanson's complete symphonies - with No.2 "Romantic" - so evidently we can look forward to hearing all seven in the coming months.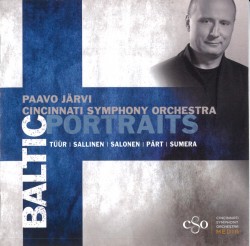 Although he seems to have expunged it from his official biography, as a young man Estonian conductor Paavo Järvi spent a season at the helm of the Chamber Players of Toronto in its final year of operations, 1991-1992. He has since gone on to a number of prestigious postings, currently Music Director of the Orchestre de Paris, following a decade in the same capacity at the Cincinnati Symphony Orchestra culminating with the 2010-2011 season. To commemorate their long and fruitful relationship the CSO has just released Baltic Portraits (CSOM-946) with live performances spanning 2002 through 2011. The disc begins with Fireflower, a short dramatic work by fellow countryman Erkki-Sven Tüür, to celebrate Järvi's 10th anniversary with the CSO. Designed not so much a fanfare as a ceremonial bouquet - with "blossoms resembling flames" – it is a colourful work representative of the composer's recent orchestral output (symphonies 4 – 8) with a momentary reference in the rhythm section to Tüür's early years in a rock band. Finnish symphonist Aulis Sallinen is represented by the Symphony No.8, "Autumnal Fragments" which Järvi premiered in 2004 with the Concertgebouw Orchestra before introducing the work to North America in Cincinnati the following season. The Finnish connection continues with Gambit, a work composed as a 40th birthday present for Magnus Lindberg by someone we know better as a conductor, Esa-Pekka Salonen. Beginning in shimmering ethereal waves the piece erupts into a dynamic extended middle section before eventually returning to its quiet opening mood. Arvo Pärt's Cantus in Memory of Benjamin Britten with its familiar tintinnabulations seems to grow organically from the Salonen and then leads dramatically to the final work, the Symphony No.6 of Estonian composer Lepo Sumera, completed just months before his death at age 50 in 2000. Not only one of Estonia's most significant composers, Sumera also had a wider public influence serving as the Minister of Culture from 1988-1992 during the country's Singing Revolution. This dramatically compelling symphony, which would in other circumstances have been a mid-career milepost, adds to the legacy of this strong and original voice, but leaves us wondering what Sumera might have accomplished if allowed even a few more years.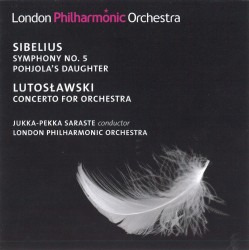 A conductor who has not disavowed his time in Toronto, Jukka-Pekka Saraste was director of the TSO from 1994-2001. He currently serves as the Music Director of the Oslo Philharmonic and since 2010 is Chief Conductor of the WDR Symphony Orchestra Cologne. The London Philharmonic Orchestra has just released a disc of live recordings (LPO – 0057) drawn from concerts Saraste conducted in February and October 2008 featuring two of my favourite orchestral works, Sibelius' Symphony No.5 and Lutosławski's Concerto for Orchestra. Sibelius is of course one of Saraste's specialties – he's recorded the cycle of seven symphonies twice to great acclaim – and Sibelius was, along with Mahler, a mainstay of his repertoire in Toronto. Unlike many composers, with Sibelius we are not given finished themes that are then developed and reworked, but rather fragments which seem to grow organically into the final form of the composition. This live performance with the LPO is outstanding as we hear Saraste building the music block by block until we reach its majestic conclusion and the anticipatory tension of the final six chords. The Lutosławski concerto is a relatively early work which exploits the full resources of the orchestra in a dramatic and dynamic way. I see this as a culmination of the composer's early development, kind of a doctoral thesis summing up his understanding of the music of the first half of the 20th century. His particular influences were Bartók (whose own Concerto for Orchestra was perhaps the first modern day work in this form) and the folk music of his native Poland. Shortly thereafter, his music began to develop along different lines as he incorporated aleatoric aspects and added extended temporal and harmonic effects. One the earliest works in the new style, premiered at the 1958 Warsaw Autumn Festival, was another homage to Bartók, the Musique funèbre in memory of the Hungarian master. But it is the wonderfully dramatic Concerto for Orchestra we are presented with here and Saraste really brings it to life, emphasizing the bombast of the exuberant passages and the foreboding of the opening of the final movement with its haunting double reed melodies. The thunderous ovation which begins almost before the last note sounds is testament to the London audience's appreciation.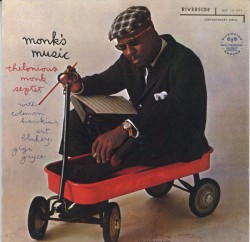 1957 was a breakthrough year for Thelonious Monk seeing the release of two seminal albums including Monk's Music, the only studio recording on which John Coltrane performed in a Monk ensemble. Other members of the septet included trumpeter Ray Copeland, Gigi Gryce on alto sax, Monk's former boss Coleman Hawkins sharing tenor sax duties with Coltrane, Wilber Ware bass and Art Blakey on drums. The original six track Riverside Lp included Monk's arrangement of the traditional hymn Abide with Me, the distinctive Well, You Needn't and three more Monk signature pieces – Ruby, My Dear; Off Minor; Crepuscule with Nellie – and the 1942 Kenny Clarke/Thelonious Monk tune which has been touted as "the first classic, modern jazz composition" Epistrophy. In 1991 there was a CD re-issue on the Original Jazz Classics label which included bonus tracks of other takes of Crepuscule and ­Off Minor and several months ago I received a 2011 re-issue of the re-issue, now on the Original Jazz Classics Remasters imprint (OJC-32689-02). This latest incarnation has added another bonus, an extended track entitled Blues for Tomorrow penned by Gigi Gryce, recorded at the end of the first day of the two day session that produced the original disc. Notably absent is Monk himself on this track, evidently fast asleep after the effort of recording Epistrophy. The new release has retained the iconic cover picture of Monk seated in a little red wagon wearing his distinctive hat and sunglasses, and the original liner notes have been shrunk to near illegibility to fit the CD format. Fortunately these notes by Orrin Keepnews are also included in a more readable type inside the booklet along with a four page in depth appreciation by Ashley Kahn. It is features like this which make the continued recycling of the existing catalogue worth while.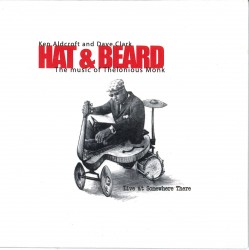 Around the same time an intriguing new album arrived – Hat and Beard: The music of Thelonious Monk – which uses for its cover art a clever re-working of the Monk-on-a-wagon portrait, this time with the vehicle fashioned from a guitar and a drum kit. The disc was recorded live at Toronto's Somewhere There in April 2009 and features guitarist Ken Aldcroft and drummer Dave Clark (Trio Records TRP-013). Although there is no overlap of material here with "Monk's Music" and for that matter almost none in the instrumentation, the entire album re-interprets the music of the quirky legend in some surprising ways, from a very busy 52nd Street Theme to a very sparse (but ever growing in intensity) Locomotive. A highlight is the Monk/Hawkins co-composition I Mean You. While this album in some ways outdoes the originator's minimal approach to melody and arrangement, it certainly provides evidence of a thoughtful consideration of the music of this modern master.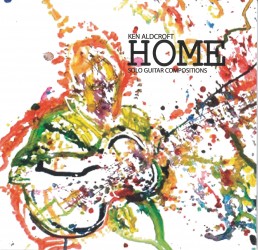 Simultaneous with the release of "Hat and Beard" Ken Aldcroft – a very active participant in Toronto's avant-jazz scene and co-founder of the Association of Improvising Musicians – released Home: Solo Guitar Compositions (Trio Records TRP-5502-012). I approached this disc with some trepidation, assuming that an entire album of solo electric guitar works by a single composer would wear a little thin after a while. Of course an electric guitar can produce an almost infinite variety of sounds with the extensions and manipulations available today. I was therefore doubly surprised to find that Aldcroft held my attention throughout the near hour-long excursion, and that he did so without the obvious use of pedals and other devices so commonly seen at the feet of guitarists. Oh he certainly uses some extended playing techniques, but one gets the impression these are all achieved through dextral facility rather than electronic means. There aren't any tunes you'll go away whistling here, but some surprising sonorities in the exploration of the possibilities inherent in the six strings of Aldcroft's instrument.
We welcome your feedback and invite submissions. CDs and comments should be sent to: The WholeNote, 503 – 720 Bathurst St. Toronto ON M5S 2R4. We also encourage you to visit our website, www.thewholenote.com, where you can find added features including direct links to performers, composers and record labels, "buy buttons" for on-line shopping and additional, expanded and archival reviews.
David Olds
DISCoveries Editor
discoveries@thewholenote.com