It was my mother's record collection that whetted my appetite for a broad spectrum of music at a young age, from the warhorses of the classical repertoire on her Reader's Digest boxed set of LPs, to such "modern fare" as Ferde Grofé's Grand Canyon Suite, through the New Orleans jazz of Louis Armstrong and Pete Fountain (my introduction to St. James Infirmary Blues), and a gamut of what we now call roots music. Of particular note were albums by Carl Sandburg (including the memorable My name is Yon Yonson), Burl Ives (Goober Peas), Sonny Terry and Brownie McGhee (Rock Island Line), Pete Seeger with and without the Weavers (too numerous to mention), Woody Guthrie (ditto) and Lead Belly (Pick a Bale of Cotton). Mom is now well into her ninth decade and still an active concertgoer and "record" collector, as well as a devotee of public television.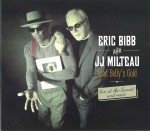 It was this latter that provided her introduction to the late Leon Bibb and his son Eric some years ago. She spoke so enthusiastically of this blues duo that when I realized Eric Bibb was coming to Hugh's Room in January, accompanied by Michael Jerome Browne (whose CD Sliding Delta I discussed in this column last March), I knew it was time for a family outing. Now as I mentioned, mother is getting on in years and mostly prefers matinee performances, but that evening she happily stayed for both sets. Bibb is a storyteller-singer-songwriter who picks a mean guitar – fingerstyle, no actual picks – and has a powerful and gruff, yet melodic voice. His own compositions span a variety of styles but his repertoire also encompasses acoustic blues and roots standards of the last century from field calls to gospel (and he does a mean James Brown).
Bibb's most recent project focuses on the seminal work of Huddie Ledbetter, better known as Lead Belly. On Lead Belly's Gold (Stony Plain Records SPCD 1387 stonyplainrecords.com) Bibb is joined by French harmonica wizard JJ Milteau whose credits include work with Yves Montand and Charles Aznavour but whose main focus is the Blues, an idiom in which he is very well versed. What strikes me most about his playing is the way he incorporates a world of styles into these classic tunes, from the blue note-bending that we've come to expect in the genre to sounds that mimic Zydeco accordion produced on his tremolo harmonica.
There are a few Bibb original tunes dedicated to Lead Belly in the mix, but mostly we are presented with songs written by or associated with Lead Belly, including Grey Goose, Midnight Special, Pick a Bale of Cotton, Rock Island Line, Goodnight Irene and House of the Rising Sun. The CD features both live (at the Sunset) and studio recordings, with Bibb and Milteau joined on some tracks by drummer Larry Crockett and bassist Gilles Michel with backing vocals by Big Daddy Wilson and Michael Robinson. If you didn't have the opportunity to hear these songs thanks to your mother in your formative years – thanks, Mom! – or even if you did, this tribute to one of the true originals of roots music is a great introduction/reminder of where it all began.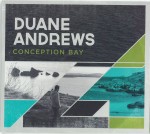 One of the discs to cross my desk over the holiday season was the latest from Newfoundland jazz and swing guitarist Duane Andrews entitled Conception Bay (duaneandrews.ca). The shadow of Django Reinhardt looms large, as it always does in Andrews' repertoire, both in the form of Reinhardt covers and original compositions in the Hot Club style. I was delighted to find Reinhardt's Swing 39, which I first heard on a Quintet of the Hot Club of France LP some 40 years ago, in a lively and convincing rendition which sees Andrews in duet with fellow Newfoundlander, violinist Mark Fewer. As a matter of fact all four members of the string quartet who make up the band here are originally from Newfoundland: Lynn Kuo, violin; Angela Pickett, viola and Amahl Arulanamdam, cello.
Not all of the music is in the swing style and fittingly there are some Newfoundland-inspired tunes including Andrews' Gigues plus traditional Reels and Otto Kelland's Let Me Fish Off Cape St. Mary's. The quartet members all have strong careers in classical music (although not to the exclusion of other musical forms – they are remarkably eclectic) and we find nods to the world of composed music in the form of the Lullaby from Stravinsky's Firebird and a suite of Improvisations on Chopin's Op.64, No.2. The darkly impressionistic title track, another Andrews original, is a stark portrayal of the landform, presumably in the dead of winter. But we are not left out in the cold – the disc ends with a sunny, breakneck version of Sweet Georgia Brown. Highly recommended!
Review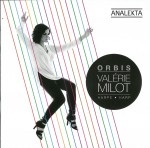 Quebec harp virtuoso Valérie Milot's latest CD Orbis (Analekta AN 2 9880) is an eclectic release of 20th century fare. Minimalist offerings by Marjan Mozetich and Steve Reich are featured along with works of John Cage and Antoine Bareil plus Bareil's arrangements of music by Gentle Giant and Frank Zappa. Mozetich's El Dorado for harp and strings opens the disc in a dramatic performance with Les Violons du Roy under Mathieu Lussier's direction. The quiet, almost ominous, opening gradually builds like an ancient steam locomotive coming into town – you can almost see the smoke chuffing into the sky on the horizon – but over the 15 minutes of the work the textures gradually lighten and change into what Mozetich describes as a dreamscape. Commissioned by New Music Concerts for Erica Goodman back in 1981, El Dorado has become something of a modern classic and this is the third recording that I'm aware of. Goodman's performance with the Amadeus Ensemble and Caroline Léonardelli's with the Penderecki String Quartet are available from the Canadian Music Centre (musiccentre.ca).
The locomotive relentlessness of the opening of the Mozetich is mirrored in a gentler way in Steve Reich's Electric Counterpoint. Originally written for jazz guitarist Pat Metheny, the work is scored for solo guitar, 12 guitars and two bass guitars. As in many works by Reich it can be played by an ensemble or by a single musician overdubbing the multiple parts. In her arrangement for harps, it is this latter approach taken by Milot, giving her an opportunity to showcase "the distinctive colours of the harp's different registers and its exceptional resonance." The result is very effective and the hypnotic rhythms are tantalizing in this performance.
John Cage's In a Landscape is hypnotic in a different way, with dreamlike arpeggiated melodies spiralling gently and only occasionally punctuated by belling chords in the bass. Composed in 1948 for the choreography of Louise Lippold it was conceived for performance on either piano or harp. Milot's depiction of the meditative landscape is exquisite.
Composer/violinist Antoine Bareil's Castille 1382 continues the mood with a meditation on Jacob de Senleches' fourteenth-century virelai La harpe de mélodie. Bareil's title recalls the year of the death of Eleanor of Aragon, Queen of Castile. It is in two sections, an extended harp solo in which the medieval melody is presented unadorned and then in a harmonized rendition; and in the final minutes the haunting soprano voice of Marianne Lambert joins the harp in canon. It's otherworldly.
At this point the disc takes a hard left turn and we are immersed in the world of pop music. But the transition is seamless as the solo harp introduction of Bareil's arrangement of the Gentle Giant song As Old as You're Young is in a lilting folk idiom. Harp is soon joined by an edgier violin statement of the melody (played by Bareil) and as the piece develops it gets harder and harder with the addition of marimba and raunchy bowed double bass. This sets us up for the culminating storm, Frank Zappa's iconic G-Spot Tornado. Zappa initially conceived it as an electronic piece for his album Jazz from Hell because he felt that live musicians could simply not perform its complexities at the desired tempo. He was later proved wrong and there is YouTube video of an athletically choreographed performance with modern dancers and the Ensemble Modern conducted by Zappa in 1992. Since that time G-Spot Tornado has received myriad live performances and here it is vigorously and very effectively played by Milot and Bareil with Jocelyne Roy, flute, François Vallières, viola, and Raphaël Dubé, cello, providing a tornadic finale to a very fine disc.
Concert Note: Valérie Milo and Antoine Bareil can be heard in recital on March 18 at Convocation Hall, McMaster University in Hamilton. On March 19 at 5pm they will give a free performance at the Consulate of the Republic of Poland, 2603 Lake Shore Blvd W. here in Toronto (limited seating, first come first served). Soundstreams will present a performance of Electric Counterpoint and other works by Steve Reich on March 19 at the Theatre Centre, 1115 Queen St. W.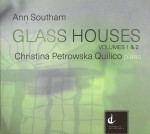 Glass Houses Volumes 1 & 2 (Centrediscs CMCCD 22215) is a simple repackaging of two previous releases featuring Christina Petrowska Quilico. As I said in my original review in 2011, "Glass Houses Revisited is a reworking of Ann Southam's 'fiendishly difficult etudes' the pianist was working on with the composer at the time of her death in November 2010. Originally composed in 1981, the title Glass Houses refers to minimalist composer Philip Glass, the best-known proponent of this style at the time of writing, and to choreographer Christopher House with whom Southam worked extensively. The mostly ebullient, busily joyful pieces were revised in 2009 for Petrowska Quilico and further edited by her with the composer's permission for this recording in 2010. The disc features nine 'favourite' selections from the set, arranged with four lively pieces on either side of the solitary 'broody and moody' track, Glass House No.13. Overall they are a weaving and embroidering of various melodic motifs that, in Ann Southam's words 'reflect the nature of traditional women's work – repetitive, life-sustaining, requiring time and patience.' One can only imagine the patience and diligence required of Petrowska Quilico to master these complex and exhilarating gems, and master them she has."
While the first disc purports to comprise Petrowska Quilico's "favourite" selections, no less care or enthusiasm is given to the remaining six etudes on Glass Houses Volume 2. Here's what Dr. Réa Beaumont had to say in her review in June 2014: "The pianist and production team have given careful thought to the order that the pieces appear on the album. From a shimmering opening to intense, driving movements, there are also playful moments with unexpected jazz riffs. Petrowska Quilico's recording exemplifies the artistry and physical endurance that are required to create this seamless musical vision for one of Ann Southam's masterpieces."
If you didn't take our word for it first time round, this new edition is a cost effective ($20 at musiccentre.ca) way to rectify that and to get the whole collection.
We welcome your feedback and invite submissions. CDs and comments should be sent to: DISCoveries, WholeNote Media Inc., The Centre for Social Innovation, 503 – 720 Bathurst St. Toronto ON M5S 2R4. We also encourage you to visit our website thewholenote.com where you can find added features including direct links to performers, composers and record labels, "buy buttons" for online shopping and additional, expanded and archival reviews.
David Olds, DISCoveries Editor
discoveries@thewholenote.com