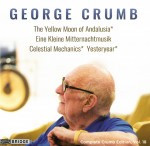 Last month a CD of late works by Elliott Carter gave me occasion to muse about the brushes with greatness I have been privileged with, thanks to my relationship with New Music Concerts. A new CD – Complete George Crumb Edition Volume 18 (BRIDGE 9476 bridgerecords.com) – gives me that opportunity once again. Although it seems more recent, I realize it has been more than a dozen years since George Crumb was last in Toronto as the guest of NMC. For several decades after NMC's founding in 1971, a tradition developed that Crumb's new works would receive their second performances in Toronto; in the case of the celebrated Idyll for the Misbegotten for amplified flute and three percussionists, dedicated to Robert Aitken, this city was the location of its world premiere. That tradition continued in 2003 when the composer's daughter Ann Crumb sang the Canadian premiere of the recently composed …Unto the Hills, Songs of Sadness, Yearning and Innocence, with the New Music Concerts ensemble.
On that occasion it was my great pleasure to spend several days in the company of the 74-year-old composer and his family. In the intervening years Crumb has not slowed down much, as this disc attests, with a new work from 2012 – The Yellow Moon of Andalusia, Spanish Songbook III for Mezzo-Soprano and Amplified Piano – and recently revised versions of 1979's Celestial Mechanics, Cosmic Dances for Amplified Piano, Four Hands and Yesteryear, A Vocalise for Mezzo-Soprano, Amplified Piano and Percussion originally written in 2005. Central to the disc is a 2001 composition, Eine Kleine Mitternachtmusik, A Little Midnight Music, Ruminations on 'Round Midnight by Thelonious Monk for Amplified Piano, a nine-movement tribute to both Monk and Mozart performed by Marcantonio Barone. Amplification is one of the key elements of Crumb's music, not to make it louder per se, but to make audible some of the subtle effects that the performers are called upon to execute, be it whistle tones on a flute or plucked notes or pedalled washes of harmonics inside the piano. This is very much a part of the Mitternachtmusik, along with other Crumb signature sounds and techniques, from dramatic knocks on the piano's frame to shimmering glissandi on the strings, gentle melodies juxtaposed with brash interjections – veritable explosions of sound – and vocalizations from the pianist. Crumb's characteristically descriptive movement titles include Cobweb and Peaseblossom; Incantation; Golliwog Revisited (with a nod to Debussy) and Cadenza with Tolling Bells.
There is another personal connection for me on this recording. The soprano in the two vocal works is Tony Arnold, who performed a stunning rendition of György Kurtág's Kafka Fragments with violinist Movses Pogossian for New Music Concerts at Gallery 345 last season. Arnold is no stranger to Crumb's music – she received a Grammy nomination for her performance of Ancient Voices of Children – and is in fact the dedicatee of Yesteryear. That title was inspired by a line from François Villon, "Mais où sont les neiges d'antan," rendered most famously into English by Dante Gabriel Rosetti as "But where are the snows of yesteryear?," a line declaimed and later whispered in the original archaic French toward the end of the 11-minute work. As the composer's preface tells us, "the singer is vainly searching for her lost youth and beauty and laments their inevitable erosion by the relentless passage of time." There is some ritual involved in the performance, as is often the case in Crumb's music. In this instance, over the duration of the piece the singer moves between nine stations – spread around the concert hall in the original version but restricted to the stage in the 2013 revision.
Both Yesteryear and The Yellow Moon of Andalusia are first recordings. In the latter, Crumb returns to the poetry of Federico García Lorca, which has been the inspiration for many of his works since the 1960s, including the above-mentioned Ancient Voices of Children. While the earlier works used the original Spanish, here Crumb sets English translations of the poems. The comprehensive booklet includes both the originals and the translations. We have to thank Bridge Records for their thoroughness, not only in the preparation of this recording, which also includes the piano duo Quattro Mani and percussionists David Nelson and William Kerrigan, but for undertaking such an exhaustive catalogue of works by one of the unique voices of our time.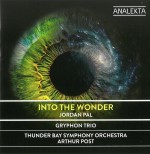 I am pleased to note that this month we have reviews of four Analekta discs, and that they all feature contemporary (or at least 20th-century in the case of André Mathieu) composers. I point this out because although this Quebec label is highly respected for its releases, for the most part they stick to more conventionally classical repertoire, even though some of their artists are renowned for their commitment to contemporary music. The Gryphon Trio has been a major "exception to this rule." The Gryphon's 19-title discography includes half a dozen Analekta releases of contemporary music, so kudos to them. The most recent of these is Into the Wonder (AN 2 9521 analekta.com), on which they join the Thunder Bay Symphony Orchestra under the direction of Arthur Post to perform the music of Jordan Pal. Described by Ludwig van Toronto as "the country's current it-boy composer," at 34, Pal is currently the RBC affiliate composer of the Toronto Symphony and his music has been performed by every significant orchestra across Canada.
Starling – Triple concerto for violin, cello, piano and orchestra was commissioned by the Gryphon Trio and the Thunder Bay Symphony in 2013. It is a scintillating work in three movements, opening with an orchestral flourish that develops into a 15-minute flight, a "murmuration" with only brief moments of respite, mostly in the form of lyrical cadenzas from the solo trio. It is exhilarating how Pal sustains the momentum throughout. The Largo second movement begins in dark brass timbres that once again give way to gorgeously lyrical passages from the soloists, especially in the cello lines. But one word of caution, or at least a cautionary tale for me. Many years ago I discovered how close the sound of a cello can be to that of a saxophone when I first heard Kabalevsky's Cello Concerto No.2. About midway through, the solo cello gives way to an alto saxophone cadenza so seamlessly that it takes several seconds for the ear to recognize what has just gone on. I had a similar experience when I first listened to Starling, which I did on small computer speakers. I was convinced I was hearing saxophone at several points in the recording and emailed Pal to ask if this was the case because I did not see any saxophonists credited in the list of orchestra members. He assured me that he had not included saxophone in the instrumentation and subsequent listening on proper speakers has confirmed this. That's why I make a point of listening on my stereo system before passing judgement on discs – basic computer systems simply don't provide accurate sound. The finale, Presto – Electric and Wild is simply that, a moto perpetuo once again reminiscent of a thousand starlings soaring and swirling together in the sky.
I think I will let the composer speak for himself about the title piece, also commissioned by the TBSO, which at half an hour comprises just under half of the disc. "Into the Wonder celebrates the creative will of our universe. Evoking birth and death, creation and destruction, universal interconnectedness and the rapture of love, this piece seeks to capture the mystery, awe and wonder of life. Nature's own great works of art are reminders that we are a part of this magnificent range of possibilities, that we are part of something much greater. This symphony celebrates all that is beautiful." Is this simply the naïve vision of a young man couched in slick orchestral finery? This is certainly not "new music" in the sense of Carter or Crumb, but it is genuinely attractive, well-crafted and brilliantly executed. Does it succeed in its aspirations? I welcome you to judge for yourselves.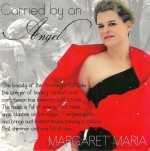 I'm not normally drawn to so-called new age music, and I think that's the category cellist Margaret Maria's Carried by an Angel would most naturally fall into, yet I find myself drawn to it. In 2011 Margaret Maria Tobolowska left the position she held with the National Arts Centre Orchestra for a dozen years to pursue a solo career as cellist and chamber musician, composer and producer. I must confess that I was a little off-put by the statement on the cover of the promotional copy of the disc I received: "The beauty of the Archangel Raffaele, the bringer of healing, comfort and compassion has been brought to me. The music is full of energy that heals, sings, dances on the edge of winged spirits and brings such indescribable beauty in colours that shimmer and are full of love." I am not a believer in angels, nor spiritual healing and at first did not think I should be the one to comment on the disc. But as a cellist, and lover of many diverse sorts of music, I gave it a try, and then another. It is ostensibly a solo cello disc, but more accurately, a solo cellist disc. There are many layerings of lines that together produce dense and lush melodic textures, a lovely wash of sound that is warm and immersive. The overall effect is orchestral, but in a unique way since all of the sounds are made by cello, with some computer processing, so there is a welcoming homophony. To me it is reminiscent of the music of Arvo Pärt if you imagine a piece like Spiegel im Spiegel on an orchestral scale. If you are curious, you can check our Margaret Maria's website (enchanten.com) and her Enchanten channel on YouTube.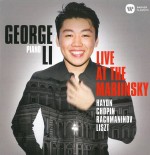 And a quick final note. 2015 Silver Medalist in the International Tchaikovsky Competition George Li has just released his inaugural CD, Live at the Mariinsky (Warner Classics 0190295812942). It was recorded in St. Petersburg one year ago and it features exactly the same repertoire the young superstar performed in Vancouver in October and will perform again in Toronto in February: piano sonatas by Haydn (Hob.XVI:32) and Chopin (Op.35), Rachmaninov's Variations on a theme of Corelli, and Liszt's Consolation No.3 and Hungarian Rhapsody No.2. I am a little surprised that the CD booklet, which includes an extended article about the repertoire by Jed Distler in three languages, contains not a word about this fabulous young performer. There is lots of information available on his own website however – georgelipianist.com – including such tidbits as he made his first public performance at the age of ten (2005) at Boston's Steinway Hall, and in 2011 performed for president Obama at the White House in an evening honouring Chancellor Angela Merkel. If the disc is any indication, the concert will be a barnburner not to be missed by the cognoscenti. Now, if he could just find time to learn some new repertoire!
We welcome your feedback and invite submissions. CDs and comments should be sent to: DISCoveries, WholeNote Media Inc., The Centre for Social Innovation, 503 – 720 Bathurst St. Toronto ON M5S 2R4. We also encourage you to visit our website thewholenote.com where you can find enhanced reviews in the Listening Room with audio samples, upcoming performance details and direct links to performers, composers and record labels.
David Olds, DISCoveries Editor
discoveries@thewholenote.com