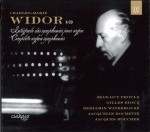 Widor - Complete Organ Symphonies
Jean-Guy Proulx, Gilles Rioux, Benjamin Waterhouse, Jacquelin Rochette,  Jacques Boucher
XXI-21 Productions; XXI-CD 2 1720
Organ recordings are as much about the instrument as they are about the performer and the repertoire, so it's often hard to say what should really get top billing. XXI presents us with a complete set of Charles-Marie Widor's 10 (Organ) Symphonies performed by five different organists on five different instruments built by Canada's Casavant Frères of Saint Hyacinthe, Québec. This set is a substantial document. It illuminates a unique period of French music history in the early 20th century when advancing technology had a huge impact on pipe organ building. New materials, better mechanisms and electrification gave builders the opportunity to design "orchestral" instruments with broad palettes of colours. Moreover, a growing body of organ works in this "orchestral" genre was waiting to be heard and Widor's 10 symphonies are among the best to illustrate this phenomenon. These six CDs offer many outstanding examples of how skilful organists can register (colour) the complex inner voices of Widor's writing. Some remarkable highlights deserve special mention.
Symphony No.1 is a collage of contrasting dynamics and colour. Organist Jean-Guy Proulx plays the 1921 Casavant restored in 1979 by Guilbault-Therien (Cathédrale Saint Germain de Rimouski) and makes the Marche Pontificale the most memorable movement. Proulx also plays the Symphony No.4 in what is the most skilfully registered (tonally coloured) and virtuosic performance in the entire set. Superb.
Benjamin Waterhouse performs Symphony No.2 at Cathédrale Saint Hyacinthe on one of Casavant's earliest instruments (1885, rebuilt in 1978). The fugal 4th movement Scherzo is a playful dance of solo reeds and the Symphony's Finale is truly magnificent.
Symphony No.3 is played by Gilles Rioux on a 1964 Casavant, rebuilt in 1990 in the Basilique Notre-Dame-du-Cap, Cap-de-la-Madeleine. The 2nd movement Minuetto is an utter delight and the 3rd movement Marche is simply explosive!
Organist Jacquelin Rochette plays the 1943 Casavant (rebuilt 1995) in Église Saint-Roch, Quebec City. Her performance of the Symphony No.5 features the famous Toccata every organist either plays or wishes they played better. Her Symphony No.6 Finale is even more spectacular and shows Widor at his rhythmic and inventive best.
Symphonies 9 and 10 are both more compact works with fewer movements. Organist Jacques Boucher has the advantage of playing the 1995 rebuild of the 1915 Casavant in Église Saint-Jean-Baptiste de Montréal. Of all the organs this one seems most solidly in tune throughout its entire set of ranks. Most others show some minor tuning issues, though not serious enough to detract from their performance.