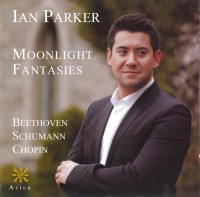 Moonlight Fantasies - Beethoven; Schumann; Chopin
Ian Parker
Azica ACD-71264
In Canadian music circles the name Parker has almost come to be synonymous with high standards of excellence in the field of piano performance, all stemming from the renowned Vancouver-based pedagogue Edward Parker. Edward's two nephews, Jon Kimura and James, have already earned international reputations. Now Ian, his son, continues the tradition, and this new recording "Moonlight Fantasies" proves that he is indeed a worthy follower in the family footsteps.
Ian began studying the piano with his father, and later continued at the Juilliard School, where he was the winner of the Gina Bachauer Piano Scholarship Competition. He made his debut at Lincoln Centre in 2004, and has since gone on to perform throughout North America and Europe. This disc, which features music by Beethoven, Schumann, and Chopin, is a delight. Beethoven's two sonatas Op.27, including the famous "Moonlight," show a polished and sensitive approach, while the great Fantasie in C Op. 17 by Robert Schumann combines a technical brilliance with deeply-rooted sensitivity. Whether or not Chopin's Fantasie Op.49 is his greatest work is open to debate, but Parker's interpretation would surely meet with the approval of all Chopin aficionados, myself included. My only quibble – and it's a minor one- is the speed at which he takes the thrice–heard lyrical secondary theme in this piece. Although I would have preferred a little easing up of tempo, this is a minor point, and in no way mars an exemplary performance.
Well done, Mr. Parker. Like your older cousins, you have proved yourself a credit to the family name.