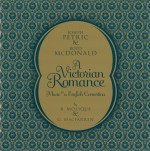 A Victorian Romance - Music for the English Concertina
Joseph Petric; Boyd McDonald
Astrila AST2322652-2 (www.midtownmedia.ca/joseph)
The concertina is a distant relative of both the accordion and the bandoneon. All three were "invented" in the 19th century. Thanks to the phenomenal success of Astor Piazzolla, his tango Nuevo bandoneon compositions and performing style is popular with accordionists around the world. Now internationally renowned Joseph Petric tackles the intricacies of English concertina music from the British Victorian era on the accordion, with help from pianist Boyd McDonald.
Two multi movement works by Bernhard Molique are featured as well as George MacFarren`s melodramatic Romance. These are not deep or challenging works but are all pretty compositions that were very much the style during the 1800s. Accordion and piano as a duet often results in a tuning and intonation nightmare, but the superb fortepiano accompaniment of Boyd McDonald tosses any such fears immediately out the window. His performance provides a solid and steady support to Petric's musical viewpoints and exceptional phrasing and bellows control.
The sound quality superbly replicates the salon atmosphere. Petric has written comprehensive liner notes that provide historical explanations. Readers interested in more information should check out the book Victorian Music for the English Concertina available at the Toronto Public Library.
I enjoy how Joseph Petric plays. However, I am a bit disappointed in his performance on "A Victorian Romance." Stylistically I would have liked to hear more dynamic differentiation and "attachment" to the musical flow, but that's just a personal thing. This is still an excellent release with fine performances.