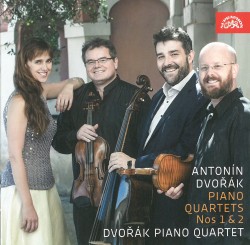 Antonin Dvořák – Piano Quartets Nos.1 & 2
Dvořák Piano Quartet
Supraphon SU 4257-2 (naxosdirect.com)
Czech composer Antonín Dvořák's music, presented here in a piano quartet form, is beautifully brought to life in this capture on Supraphon Records. Featuring the somewhat unusual instrumentation of piano, violin, viola and cello (inspired by both the public's interest in his work at the time and by Dvořák's hero Brahms' employment of the same musical aggregation), the Dvořák Piano Quartet, a current ensemble based in the Czech Republic, performs this music in a thoughtful, and at times playful manner, bringing out, as great classical music and performance will do, the range of human emotion and expression.
A violinist and violist himself, Dvořák's writing here places a premium on string virtuosity and the accomplished string performers, Štěpán Pražák, Petr Verner and Jan Žďánský, are more than up for the masterful task. While Dvořák is certainly known for his dramatic scope and the power of his fulsome symphonic works, the intimacy of the chamber group context heard here brings out the range of his grand musicianship and empowers listeners towards a quiet reflection of his beautiful musical ideas. This is easy, lyrical music best listened to intently, that combines the beauty of the Western art music tradition in which Dvořák worked so well, with the native folk music influences that the composer so skillfully researched and incorporated into his music. Captured with beautiful clarity and fidelity, this 2018 recording would be a welcome addition to the collections of both Dvořák and chamber music fans alike.