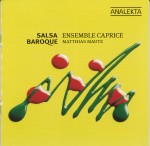 Salsa Baroque
Ensemble Caprice; Matthias Maute
Analekta AN 2 9957
Matthias Maute's notes explain salsa baroque as being 17th and 18th century Latin American and Spanish music with a diffusion of harmonies and rhythms of Europe and Africa blended with Amerindian nuances and styles. Hybrid must be an under-statement.
The choice of pieces is itself varied as Zipoli's pastorales vie with his battaglias and in turn mingle with Gaspar Fernandes' compositions with their unsullied pre-conquistador titles. The opening (anonymous) chaconne combines easily recognizable baroque music with spirited Latin American embellishments; Variations on la Gayta and the lively singing of further settings bring home the passionate nature of this fusion of music from Spain and her new colonies. Listen to Lanchas para baylar for further confirmation. Those looking for something more indigenous need only listen to the second piece, the definitely non-Hispanic Hanacpachap cussicuinin. It is incomparably Latin American, mainly because it is dated to 1631 in Cuzco!
Looking at the cover design of this CD with its electronically-drawn drizzlings of Latin American dressings and then translating its title (baroque sauce), you might get the impression this is one for the tapas-bar yuppies. It is, in truth, a valuable introduction to music created by Spanish and Portuguese composers who were assigned to Latin America and influenced by the music they found there.