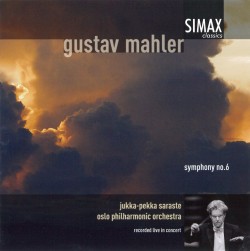 Mahler - Symphony No.6
Oslo Philharmonic Orchestra; Jukka-Pekka Saraste
Simax PSC 1316
Jukka-Pekka Saraste, valiant conductor of the Toronto Symphony during a very difficult time in its history (1994-2001), was appointed music director of the Oslo Philharmonic in 2006, a position he continues to maintain. This new release of Mahler's Sixth Symphony brings us up to date on his considerable accomplishments with this relatively unfamiliar but very fine Norwegian ensemble. Saraste's characteristic steady, forward-thrusting tempi cast a refreshing new light onto the broad architecture of Mahler's so-called Tragic Symphony, and though he is sensitive to the expressive nuances called for in the score, he is careful to avoid wallowing in maudlin excess. Though inexorable march tempos are very much the mainstay of this symphony, Saraste's relative inflexibility flattens the hectic mood-swings of the Scherzo movement and underplays its demonic aspects. Otherwise however the dividends are impressive, none more so than in the magnificently played Finale, where the relentless tread of fate leads to a shattering conclusion, marked by literal hammer-blows of fate, the third of which, suppressed in most editions, is restored here in all its grim glory. Saraste's impulse to ever-higher levels of tension results in a spine-tingling conclusion with the orchestra in glorious full throttle.
The sonic impact of this disc is quite spectacular considering that this is a recording of a live concert (without a trace of audience restlessness) from March 2010. Kudos to the engineers of the Norwegian Broadcasting Corporation for providing such a spacious and well-balanced sound stage for this accomplished orchestra. It's well worth a listen!