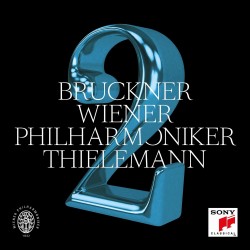 Bruckner – Symphony No.2 in C Minor
Wiener Philharmoniker; Christian Thielemann
Sony Classical G010004595494F (naxosdirect.com/search/19439914122)
Bruckner is not everybody's cup of tea. Some worship him and some outright despise him. And he is so easy to ridicule. He was a country bumpkin, a peasant. The funny story goes that he even gave a thaler to Hans Richter, his conductor, as a reward to buy himself a beer. His reputation was also hampered by the British critics calling his symphonies "boa constrictors" and so he had difficulties gaining acceptance in England or North America. Today however, his reputation has never been higher. His symphonies are a step-by-step progression towards an ultimate goal and the last three are works of a genius.
Due to the COVID pandemic all concert activities were stopped so Christian Thielemann, onetime assistant to Karajan, famous as general music director of the Bayreuth Festival and principal conductor of the Dresden Staatskapelle, decided to record all nine of Bruckner's symphonies in a leisurely manner with plenty of time now being available. The Vienna Philharmonic was the obvious choice, since it was they who had premiered those works, and in the Musikvereinssaal with its legendary acoustics. This recording is part of that series.
After the turbulent, sturm und drang First Symphony, the Second is entirely different. It is notable as the first time Bruckner opens with a tremolo on the high strings pianissimo, which has been described as a "primeval mist" that Thielemann renders nearly inaudibly. From this tremolo a sinuous cello theme emerges which returns in many guises throughout as a leitmotiv. Another new idea is the so-called "Bruckner rhythm" of two beats followed by three that appears here for the first time.
Thielemann takes a relaxed approach, a slower tempo than some, so all the details come out beautifully and the climaxes are shattering.