Review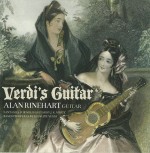 There seem to have been several CDs lately featuring outstanding Canadian classical guitarists, and you can add another one to the list with Verdi's Guitar – Fantasies for Solo Guitar by J. K. Mertz based on operas by Giuseppe Verdi, performed by British Columbia guitarist Alan Rinehart (Ravello RR7975).
Operatic transcriptions were very popular throughout the 19th century in the days before recordings and radio, and were usually made with home performance in mind. These Mertz transcriptions, though, were clearly not aimed at amateurs, gifted or otherwise. The technical challenges of reproducing operatic scores within the limitations of the guitar must have been daunting, but Mertz – an important figure in the development of the Romantic guitar style – produced an Op.8 Opern-Revue that consisted of 34(!!) transcriptions of operas by composers from Adam to Wagner.
The six Verdi transcriptions – all included here – are from Ernani, Rigoletto, Nabucco, Il Trovatore, La Traviata and I Vespri Siciliani. They are delightful fantasia-style works, with familiar arias popping out from time to time: Ernani, involami; Caro nome; Questa o quella; and La donna e mobile.
Rinehart's playing is clean and stylish throughout, especially in the tremolo passages in Ernani and I Vespri Siciliani, a technique later used to great effect by Francisco Tárrega.
Now, if we could only hear Wagner's Flying Dutchman…
Review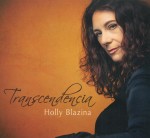 Another very interesting Canadian guitar CD is Transcendencia, the debut disc from Alberta flamenco guitarist, Holly Blazina (iTunes; Spotify; hollyblazina.com).
Originally trained as a classical guitarist Blazina has a solid grounding in the traditional flamenco technique and has been composing her own pieces in the genre for more than a decade, workshopping them with noted flamenco masters Paco Fernandez in Seville and Ricardo Diaz in San Francisco. They are in traditional flamenco forms – Alegría, Bulería, Abandolao and Farruca, for instance – and mostly with the traditional accompaniment of male and female voices, palmas and percussion, but often introduce instruments from other musical worlds, such as violin (on three tracks), and saxophone, piano and Persian santur dulcimer (on different single tracks). The result is not so much a mixing of genres as an extension of the flamenco musical style with an added dimension, and it's very effective.
Blazina's playing is clean, crisp and idiomatic – especially in Invocación, the solo final track with its excellent tremolo – and the contributions from the nine other musicians fit in seamlessly. A lovely recorded sound adds to a highly entertaining disc.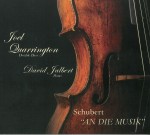 Transcriptions form the entire program of another Canadian CD this month, as bassist Joel Quarrington is back with another recital disc of transcriptions for double bass and piano (his Brothers in Brahms was reviewed here in September 2013), this time in Schubert "AN DIE MUSIK" with pianist David Jalbert (joelquarrington.com).
Although transcriptions served a specific purpose in the pre-gramophone days, making otherwise unavailable music available for home performance, in many instances since then they have served primarily to enlarge the repertoire for certain instrumentations, not always with complete success. Any misgivings you may have in that respect are simply blown away by Quarrington's playing, however, with his astonishing agility, his sensitivity and delicacy and the warmth and richness of his tonal colour dispelling any lingering doubts. Granted, part of the attraction is listening to him doing the impossible on what is usually considered a large and unwieldy instrument, but his performances go way beyond the novelty attraction – this is pure music-making of the highest order.
The title track is one of seven short pieces here, but the two major works are the "Arpeggione" Sonata in A Minor D821 and the Violin Sonatina in D Major D384. Both are completely satisfying in all respects, with the final Allegro vivace movement of the latter providing a simply dazzling end to the disc.
With the sensitive accompaniment of David Jalbert the CD is an absolute delight, as well as an absolute wonder, from beginning to end.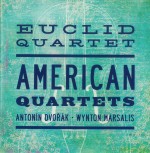 The American Euclid Quartet presents two works separated by almost exactly 100 years on American Quartets, featuring works by Antonín Dvořák and Wynton Marsalis (Afinat Records AR1701).
The Dvořák is the String Quartet No.12 in F Major Op.96, "American," written during the composer's three years as director of the National Conservatory of Music of America in New York and first performed in 1894. The performance here is warm, effusive, vibrant and dynamic.
It seems a long journey from such a completely familiar and frequently heard work to the Marsalis String Quartet No.1 "At the Octoroon Balls," written at the request of the Chamber Music Society of Lincoln Center in 1995, but what a fascinating contrast it presents.
The quartet is named for the legendary 18th- and 19th-century balls in the composer's native New Orleans, described in the booklet notes as being "…given as a way to facilitate long-term relationships between wealthy White men and usually fair-skinned women of colour." The work has been called Marsalis' conscious exploration of the American Creole contradictions and compromises – cultural, social and political – exemplified by life in New Orleans.
It's a long (almost 45 minutes) but utterly engrossing work of seven sections, the longest of which – at ten minutes – is the astonishing opening Come Long Fiddler for solo violin, recalling, in dazzling fashion, the old Black country dance fiddle tradition. Blues, jazz, African, folk, spiritual and ragtime influences abound in the remaining sections, with simply terrific writing and playing: Mating Calls and Delta Rhythms; Creole Contradanzas; Many Gone; Hellbound Highball; Blue Lights on the Bayou.
Finally, with Rampart St. Row House Rag, here we are at what Dvořák envisioned and encouraged – the use of New World musical material as the basis for classical composition. It makes perfect sense of an apparently diverse program on an outstanding CD.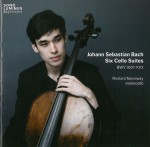 There are another two excellent sets of the cello suites by Johann Sebastian Bach to add to the already extensive list: Six Cello Suites BWV 1007-1012 by the Australian cellist Richard Narroway (Sono Luminus SLE-70010); and Suiten für Violoncello by the Swiss cellist Thomas Demenga (ECM New Series 2530/31).
There are several immediate differences: at the time of the recordings (2015 and 2014 respectively) Narroway was 24, Demenga 59; it's the first recording of the suites for Narroway, the second for Demenga; Narroway uses a modern cello and bow, Demenga a Baroque bow and gut strings on 18th-century instruments; Narroway plays at modern pitch, Demenga down a full tone.
There are also similarities though: both players are fully aware of early performance issues and have made extensive study of contemporary sources; and both see these works as essentially dance suites, with lively – but not necessarily fast – tempos.
Narroway has a lovely rich sound that never overwhelms, with beautiful phrasing and a fine rhythmic sense that is given room to breathe and expand. It's all bursting with life and sounds quite effortless.
Demenga's tone can sound a bit tight at times, but again there is freedom in the phrasing and rhythms. On the down side, there is a fair amount of noise from the left-hand fingers hitting the fingerboard. You may or may not find that to be distracting, but it does mean that with Demenga you are frequently aware of the presence of the performer; with Narroway, however, rarely if ever are you aware of anything but the music, and it's his recordings that I will keep returning to.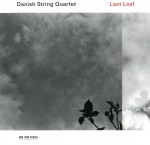 There's more immensely satisfying quartet playing on Last Leaf, a recital of Nordic folk tunes all arranged by the Danish String Quartet (ECM New Series 2550). There's a wide range of sources for the 16 short pieces here, from ancient hymn tunes and medieval ballads to boat songs and traditional dance music. In addition, there are original compositions by two members of the quartet – three by cellist Fredrik Schøyen Sjölin and one by violinist Rune Tonsgaard Sørensen – as well as a polska by Swedish fiddler Eva Sæhter. Sjölin and Sørensen also add the occasional harmonium, piano and glockenspiel and double bass contributions to enrich the sound.
It's a really lovely collection, beautifully arranged and played. The quartet members say that they "gathered a bunch of amazing tunes and hope you will enjoy what we have done to them."
Well, consider it job done.
Review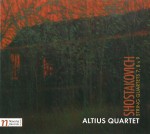 Dmitri Shostakovich wrote four string quartets in the period 1946-56, years in which his standing with the Soviet regime was still uncertain, so I'm not sure I agree with the statement by the Altius Quartet, on their new CD of Shostakovich String Quartets 7, 8 & 9 (Navona Records NV6125) that these three works, from 1960-64, were written "directly after World War II when art was often oppressed." By 1960 Stalin had been dead for seven years and the composer's rehabilitation was well under way.
There is, however, no doubting the quartet's assertion that these three highly personal works form a triptych, dedicated as they are to the composer's first (No.7) and third (No.9) wives and ostensibly to the victims of fascism (No.8) including Shostakovich – indeed, his daughter Galina claimed that he originally dedicated it to himself, with the published dedication imposed by Soviet authorities.
There's a lovely feel to the playing from the outset, from the String Quartet No.7 in F-sharp Minor Op.108 through to the highly positive ending of the String Quartet No.9 in E-flat Major Op.117, but it's the String Quartet No.8 in C Minor Op.110 that is at the heart of this group, not merely physically but also emotionally. The opening four notes D, E-flat, C and B (or D, S, C, H in German notation) that form the composer's musical signature reappear in every movement, and the autobiographical nature of the music is constantly underlined by numerous quotations from earlier works.
It's a committed and moving performance by the Altius, albeit perhaps with not quite the air of utter desolation and despair that some performances wring from the final pages.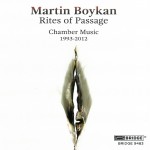 The American composer Martin Boykan, who turned 86 in April, may be a new name to a lot of people, but there is no doubting his pedigree: he studied with Copland, Piston and Hindemith. His output is predominantly in the chamber music realm, which probably makes the new CD Rites of Passage – Chamber Music 1993-2012 (Bridge Records BRIDGE 9483) a fairly representative introduction to his works.
A good deal of American classical music over the past 25 years or so has been unabashedly tonal, but Boykan is clearly not of this persuasion. There's not a great deal of emotional warmth or purely melodic material, and the absence or ambiguity of tonality together with the often extreme dynamics means that it's not always easy listening. Still, there's no doubting that this is a strongly individual and skilled composer fully in control of his structures and material.
The works, recorded between 2011 and 2015 by combinations of ten different players, are: Impromptu for Violin Solo (1993); Sonata #2 for Violin and Piano (2009); Piano Trio #3 "Rites of Passage" (2006); Sonata for Viola and Piano (2012); and Psalm 121 (1997) for mezzo-soprano and string quartet. The violin and viola sonatas were written for the soloists here, Curtis Macomber and Mark Berger respectively.