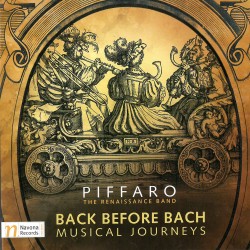 Back Before Bach
Piffaro The Renaissance Band
Navona Records NV6106 (navonarecords.com)
Just one look at the photographs of Piffaro's musicians – and from the sleeve notes the range of instruments played – will confirm this ensemble's sheer diversity of expertise. Listen to the 38(!) tracks and you will appreciate the exuberance of their playing.
From the outset the shawms and sackbuts take us back to the Renaissance – we are listening to compositions by Michael Praetorius, Heinrich Isaac and many others. What is surprising is the Chorale (with sackbuts and dulcian) by none other than J.S. Bach. Mind you, Bach's father, godfather and father-in-law were all city trumpeters.
Then two highly popular Renaissance tunes. Joan Kimball is solo bagpipes player in Innsbruck, ich muss dich lassen: her intense interpretation is balanced out by Priscilla Herreid's perky recorder playing and, indeed, by some spirited crumhorn playing in the other variations.
The second variations are of Tandernaken op den Rijn; no bagpipes or crumhorns but the mellow and ethereal tones of the recorder. In particular, enjoy Antone Brumel's two-part scoring and the deft playing once again of Herreid and Kimball. This set is perhaps the most involved – yet enjoyable – on this CD. Play the set to anyone who still believes recorders are for schoolkids!
And so to A solis ortus, variations commencing with one by Coelius Sedulius for two recorders which would grace any modern church (Sedulius died in 450 – early music composition with a vengeance…). Recorders again hold sway courtesy of, inter alia, a Praetorius Chorale played on eight(!) recorders, and another Chorale by J.S. Bach.
German dances, as may be expected from the late Renaissance, feature heavily. In one suite shawms and sackbuts can be heard separately and in harmony, the former in the Scheidt Allemande with deep rich tone, the latter in the Praetorius Passameze. La Volta lives up to its name, Praetorius placing his stamp on this breathtaking popular dance.
The CD is rounded off with another suite of German dances, dominated by Praetorius. Joan Kimball arranges Ballet des Aveugles for bagpipes and shawm, a skirling effort with many variations, followed by the relatively delicate Padouana by Johann Schein played on sackbuts. This dignified piece well deserves its popularity among early music enthusiasts. And this CD is well worthy of an audience wider than just the latter.