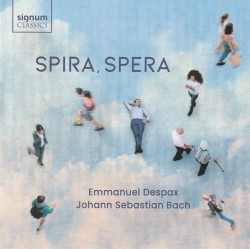 Spira, Spera
Emmanuel Despax
Signum Classics SIGCD 665 (signumrecords.com/?s=Spira)
In the liner notes to the terrific 2021 release Spira, Spera, the name taken from Victor Hugo's novel The Hunchback of Notre-Dame, French pianist Emmanuel Despax writes that studying and performing the music of Johann Sebastian Bach is metaphysical in that "there is no chaos, just beauty." Most certainly, during these trying times, humanity's quest for beauty is, if nothing, unabated. As such, I would suggest (expanding on this point) that Bach's music – particularly when played as beautifully as is captured on this wonderful recording – is an equivalently metaphysical journey for engaged listeners. Perhaps this sounds trite, but beauty is the antidote to ugliness. And sadly, there is tremendous ugliness in society and in the world at present. Beauty, and beautiful artifacts, such as the music of Bach as performed boldly and with nuance by Despax, hold out the possibility of something (a beauty ideal?) towards which we aspire.
Although much of the music contained on this disc may be familiar, the arrangements and album concept (paying tribute to the legacy of pianists and composers – Liszt and Busoni among others – who both revered Bach's music and transcribed it for the contemporary piano) is both unique and musically satisfying. The whole recording is sublime. Even on such workhorses as Jesu, Joy of Man's Desiring, Despax finds freshness in Dame Myra Hess's transcription and brings to life beautiful musical subtleties that, of course, were always contained within, but needed the deftness of touch and recording sensitivity that Despax and this album offer, to reveal themselves anew.