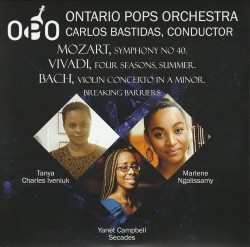 Breaking Barriers
Yanet Campbell Secades; Tanya Charles Iveniuk; Marlene Ngalissamy; Ontario Pops Orchestra; Carlos Bastidas
Independent (ontariopops.com)
Was it Arthur Fiedler who said that there are only two kinds of music: the good kind and the boring kind? Well, there is certainly no boring kind of music here.
This CD features the Ontario Pops Orchestra (OPO), a band founded by Carlos Bastidas, born in Colombia, who is also its conductor and music director. Apparently as a child Bastidas was so impressed by Fiedler and the Boston Pops that this gave him the inspiration of forming something of the sort in Canada as well. The orchestra declares itself one of the most diverse professional orchestras in Canada, organized on principles of inclusiveness and multiculturalism. Recorded at Toronto's prestigious Jeanne Lamon Hall, Trinity-St. Paul's Centre, Breaking Barriers is their debut recording of orchestral and concerto pieces featuring three soloists and the music is by no means boring.
The ambitious program begins with Mozart's notoriously difficult (Great) G-Minor Symphony No.40, a challenge for conductor and ensemble alike, performed with flawless grace. Later the hackneyed Eine Kleine Nachtmusik is played with such freshness, joy and enthusiasm that it feels like we've never heard it before.
I was absolutely enchanted by the selection from Vivaldi's Four Seasons, the second violin concerto "Summer" inspired by the languor and laziness of heat interrupted by violent gusts of wind. The soloist is Tanya Charles Ivaniuk who plays with terrific intensity and virtuosity, totally immersed like a truly great artist. The last movement, the famous Storm, involves the whole orchestra in frantic virtuoso violin playing. Later we hear soloist Yanet Campbell Secades with Bach's A Minor Violin Concerto and Marlene Ngalissamy with Vivaldi's Bassoon Concerto in E Minor, also in very fine performances.
We foresee a great future for this orchestra; they are already becoming popular in Toronto, giving open air concerts with Latin American music that includes singing and dancing with enthusiastic and participating audiences. Bravo OPO!