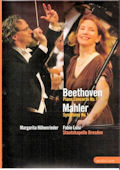 Beethoven - Piano Concerto No.1;
Mahler - Symphony No.1
Margarita Höhenrieder; Staatskapelle Dresden; Fabio Luisi
EuroArts DVD 2057718
Margarita Höhenrieder is one of those artists who have the personality, intellect and intellectual insight to enhance a sparkling performance. Her playing has refreshing spontaneity and contagious enthusiasm to spare. Not to mention her absolute technical command. Listening to and watching her play the concerto on this disc is a great treat to the extent that I have enjoyed playing it several times over the past week and shall do so again next week. After years of hearing this concerto, my favourite of the five, I find this performance to be refreshing and newly enjoyable throughout. Luisi and his orchestra are inspired to be on the same wavelength.
Luisi took over the Dresden opera in 2004 and the orchestra 2007. The Staatskapelle Dresden is now among the handful of greatest orchestras around. The Mahler First, another long-time favourite, is given a powerful performance that is delivered with uncommon simplicity. What initially seems to be a low key approach is in fact a great Mahlerian triumph with a coda that must be seen and heard to be believed. Impeccable timing and phrasing are trademarks of this conductor as witness his recordings with the MDR Orchestra of several Mahler symphonies and recently the major symphonic works of Richard Strauss with the Staatskapelle Dresden on RCA.
These performances were recorded live in the Philharmonie in Gasteig, Munich on April 9, 2008. Enthusiastically recommended.
Bruce Surtees