Bruckner – Symphony No.6
Deutsches Symphonie-Orchester Berlin; Robin Ticciati
Linn Records CKD 620 (naxosdirect.com)
Bruckner – Symphonies Nos.6 & 9
Gewandhausorchester; Andris Nelsons
Deutsche Grammophon 483 6859 (deutschegrammophon.com)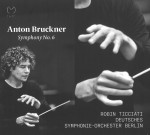 Throughout much of the century following his death, Anton Bruckner's name was routinely paired with that of Gustav Mahler. After all, the external similarities seemed obvious: both were Austrian, both wrote vast symphonies and both needed many years of proselytizing from dedicated interpreters before their music was truly appreciated. Bruckner found his true musical calling when he heard his teacher Otto Kitzler conduct Wagner's Tannhäuser in Linz. The revelation marked the character of Bruckner's symphonies, taking a cue from everything Wagner did to break virtually every theoretical rule and create a new music drama.
Bruckner's epiphany resulted in a series of truly original scores, including the Symphony in D Minor (1963-64), which he later designated No.0, three masses between 1864 and 1868 and his acknowledged Symphonies of considerable density from No. 1 (1865-66) to No. 5 (1875-76).
The Symphony No. 6 in A Major performed by the Deutsches Symphonie-Orchester Berlin conducted here by Robin Ticciati proves to be a lighter, more congenial work than its predecessors – especially No. 5, say the equivalent of Beethoven's Eighth or Brahms' Second. Still, far from being flippant, the majestic and deeply profound slow movement, for example, has a depth and eloquence that almost demands an attitude of reverence. Ticciati handles the Deutsches Symphonie-Orchester with serene confidence, and both orchestra and conductor revel in the symphony's joyous climaxes. And there are plenty of moments in the slow movement that afford real poetry.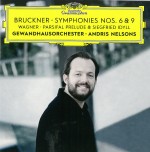 Andris Nelsons posits – and rightly so – that you could not have Bruckner without Wagner. His December 2018, live recording complements the Bruckner Symphonies 6 and 9 with Wagner's Siegfried Idyll – a work of flawless delicacy – and the deeply reflective Parsifal Prelude Act I. The shorter Wagner pieces that preface each of the two discs appear to have been astutely selected for their lyricism and profound beauty and serve to put one in a meditative space in which prepares one for the respective Bruckner symphonies.
Nelsons' brilliant performance of the Sixth with the Gewandhausorchester ends in the pure splendour of praise and – especially in the sombre Adagio and the mercurial Scherzo – is a benchmark performance of the symphony; the devotional, awestruck intensity of the work is effectively captured by the recording.
Symphony No.9 is the musical summation of Bruckner's life, with all of its struggles. It is a monumental work despite being incomplete, and is sometimes said to have a mystical quality, like that of Beethoven's Ninth. Nelsons' depth of insight makes for a deeply moving and humbling experience in this incomparable live recording. It is a gaunt, craggy, unforgiving affair, doubtless much as Bruckner intended it should be; a magnificent, chastening and ultimately uplifting musical event.