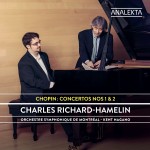 Charles Richard-Hamelin's recent recording Chopin: Concertos Nos. 1 & 2 (Analekta, AN 2 9146, analekta.com/en) is an exhilarating encounter with these two items of standard repertoire. There is a freshness in this performance that owes everything to its collaborators. Kent Nagano and the OSM are deeply aware of how much Chopin has vested in the piano's role. Their ability to morph into something purely ethereal for the slow movement of Concerto No.2 is magical. The balance and unity across the ensemble, in this and similar passages, support the piano exquisitely. So much of the piano part in this movement is in simple octaves, albeit often very ornamented and fast. Richard-Hamelin performs it with absolute fluidity, as if it were an extended keyboard recitative. The time signature seems to dissolve, leaving only a hint of anything resembling a beat as the soloist and orchestra flow toward some distant ending.
The essence of dance that is inherent in Chopin's writing saves the pianist from a conflictual role with the orchestra. The two are instead a pair of dancers elevating the solo instrument above the ensemble. While historical criticism of these works has focused on Chopin's weak orchestral writing, Hamelin and Nagano have delivered such a transcendent experience that the criticism seems somehow lost if not irrelevant in the overwhelming beauty of this performance.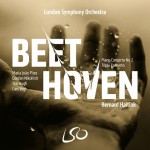 Maria João Pires appears in a new collaboration with the London Symphony Orchestra under Bernard Haitink, Beethoven Piano Concerto No.2, Triple Concerto (LSO www.lsolive.lso.co.uk). Despite the numbering, the piano concerto is actually Beethoven's first and much of it recalls Mozart, especially in the opening movement. But the young Beethoven is unmistakably present in the piano writing where his unique keyboard figurations are now recognized as familiar vocabulary. It's a careful and measured performance that reveals the caution with which Beethoven wrote it. No angry rebel here, just an explorer testing the waters for the journey to come.
All this presents a considerable challenge to the performers because listeners tend to have an expectation of what Beethoven should sound like and aren't usually prepared to hear something so Mozartean and Haydnesque. Haitink keeps the orchestra firmly in classical territory, helped by reduced instrumentation. Pires follows suit technically and stylistically but exploits every opportunity to remind us of the voice she is interpreting. The slow movement, despite its delicacy, carries an intensity that can only be Beethoven, even if it's the young version. The final movement, however, leaves nothing to doubt. Pires plays with the lightness, clarity and impeccable phrasing that have made her career.
While the Triple Concerto offers more substance, here in a reissue featuring Gordan Nikolitch (violin), Tim Hugh (cello) and Lars Vogt (piano), the piano part was written for Beethoven's patron and pupil, the Archduke Rudolph, and so doesn't have quite the virtuosity of its string partners. Still, Vogt shapes every keyboard utterance into a masterful line. The recording is, in every way, a classic.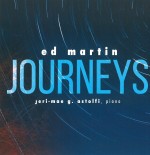 Jeri-Mae G. Astolfi is a Canadian pianist working principally in the US as a performer and teacher. Her new CD, Ed Martin – Journeys (Ravello Records, RR7995, www.ravellorecords.com) demonstrates her interest and commitment to contemporary piano music. She plays three works by one of her contemporaries, American composer Ed Martin who wrote two of them specifically for her.
The major piece on the recording is the title work Journey. Laid out in 11 sections, it charts the progress of life through a range of experiences that Martin uses as his program. Astolfi's performance of Journey makes its impact through the startling contrasts between agitated movements with titles like Vexed, Obsession and Manic and the more serene sections with names like Soul, Lament and Transcend. One of the intriguing characteristics of Martin's music is that he doesn't shy away from long fermatas or extended rests. Silence and decay are an effective part of his vocabulary. Astolfi surrenders completely to this language producing a performance so intense that it seems more like channelling than playing. Her entanglement with the essence of this music is absolute.
Two other works, Swirling Sky and Three Pieces for Piano, while shorter, are equally effective programmatic expressions. Martin is a composer who sees and feels things tangibly in his music and Astolfi is a ready interpreter with an undeniable affinity for his writing.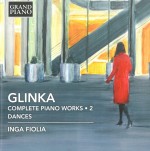 Inga Fiolia's new disc Glinka – Complete Piano Works Vol.2, Dances (Grand Piano, GP 782 www.grandpianorecords.com) follows her first volume that focused on Glinka's variations compositions. The 23 tracks are predictably brief though some are arranged in longer sets of quadrilles and contredanses.
Glinka's place in Russian music history acknowledges his contribution to a national style that began to set Russian composers free from their cultural debt to the French, German and Italian influences of the 18th and 19th centuries. This contribution is not particularly obvious in this music, designed as it was to accompany light-hearted times in the parlours and salons of Russian society.
Fiolia is a natural performer for this genre. Something about the dance form, regardless of its origin or style, seems to draw from her a fluid response that sways with the music. Her keyboard technique makes an instant impression. She has a touch that in rapid repeats throws the hammer against the strings in a way that must challenge the double escapement action that makes it possible. She relies less on pedalling than many pianists and the result is a highly articulated clarity that respects the inner harmonies of Glinka's writing.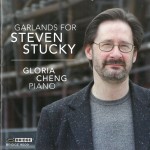 Pianist Gloria Cheng played a major role in the creation of Garlands for Steven Stucky, (Bridge, Bridge 9509, www.bridgerecords.com). She led the call for invitations to write short works of tribute in memory of the American composer who died in 2016. Over his lifetime, he wrote well over a hundred works in nearly every form and won dozens of awards. Cheng included some of Stucky's piano music on a Grammy Award-winning 2008 recording.
The 32 compositions Cheng compiled for this tribute are very personal musical statements from Stucky's colleagues, friends and composition students. They're each accompanied by brief anecdotes and dedications to Stucky's memory. What emerges from these tributes is the picture of a person who was not only a gifted and skilled composer but even more, someone remembered for his kindness and humanity. Stucky's ability to build close rapport with anyone he met opened countless opportunities for creative collaboration, instruction and deep personal friendships. In his work with the Los Angeles Philharmonic and other orchestras, Stucky made a point of getting to know each musician personally. This direct openness accounts for much of the affection the LA Philharmonic and Essa-Pekka Salonen had for Stucky and his music. It seems fitting that Salonen's tribute Iscrizione is the disc's opening track.
This recording is a remarkable collection of utterances by composers old and young; ultimately, it will bring Stucky's work to a wider audience.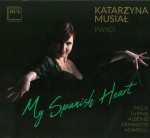 Katarzyna Musiał's new recording My Spanish Heart (Dux, Dux 1448, www.dux.pl) is beautifully planned with repertoire that leaves no doubt about where her cultural affections lie. "A Canadian pianist with Polish roots," as her agent describes her, Musiał is undeniably at home with this repertoire. Whether playing Albéniz, Granados, Turina, Mompou or de Falla, she takes to the idiomatic rhythms like a flamenco dancer, delivering characteristic Spanish melodic snaps as if her keyboard had castanets.
The Danzas gitanas Op.55 by Turina are especially impressive for the atmosphere of seductive mystery in which Musiał wraps them. But the tracks of Manuel de Falla's own piano transcriptions of his ballet music, The Three-Cornered Hat and Love the Magician are the most impressively played. In these, Musiał combines the piano's best percussive and legato qualities to deliver a full range of orchestral effects. The entire CD is an energized performance of music for which she has a fiery passion.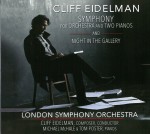 Michael McHale and Tom Poster appear as the two pianists in Cliff Eidelman – Symphony for Orchestra & Two Pianos and A Night in the Gallery, (EN001, www.cliffeidelman.com). Eidelman is an American composer and conductor with a lengthy and impressive career, most of it writing for film. His relatively few ventures into the world of large-scale orchestral forms include a symphonic tone poem, ballet music and similar works.
McHale and Poster perform neither as soloists nor as players fully integrated into the ensemble. Eidelman has, unusually, created a flexible role for the two pianists that lies somewhere between the concerto form and a fantasia featuring the keyboards, perhaps akin to Saint-Saëns Carnival of the Animals. The two pianists do appear convincingly as full-scale soloists in the second movement's cadenza. For the balance of the work, however, they emerge from and retreat back into, the ensemble at the composer's will.
As a highly skilled orchestrator, Eidelman's mastery of colour and subtle shading is superb. He describes finding the inspiration for the Symphony in the reflection of water and writes in a way that uses the pianos to enhance the emotional image of its various characters, whether still, flowing or turbulent. It's easy to hear why his film scores like Star Trek VI and Christopher Columbus have been so successful.
The disc's second work is Eidelman's Night in the Gallery for orchestra and piano. Here pianist Michael McHale becomes part of the composer's palette for recreating the impressions he experienced on viewing specific paintings by acknowledged masters.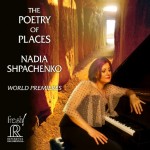 Nadia Shpachenko's latest release The Poetry of Places (Reference Recordings, FR 730, www.referencerecordings.com) is a collection of original and highly imaginative works for piano, assorted instruments and effects. The concept for the recording project is an exploration of the relationship between music and its space. Shpachenko writes briefly about her experiences of space on performance, including the performers and the audience. Her curiosity has led to commissions from eight composers to write specifically about their impressions of spaces and places as represented by architecture.
The variety of this repertoire is remarkable. Shpachenko performs a veritable tour of structures ancient and modern, producing extraordinary colours and textures from her Steinway D. Her composers sometimes add a second piano, voice, a toy piano, percussion and electronics to build their works. The subjects include Ireland's 5,000-year-old Newgrange, Aaron Copland's home in upstate New York, Bangladesh's National Assembly, a small cottage on an island in rural New York state, the American Visionary Art Museum and a couple of architectural projects by Frank Gehry.
Each composer provides a few notes on the subject of the commission and it's immediately striking how much common ground they share with Shpachenko on this abstract challenge. The strong affinity between the principal performer and the composers has produced a thoroughly engaging disc.