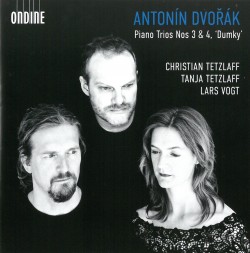 Dvořák – Piano Trios 3 & 4
Christian Tetzlaff; Tanja Tetzlaff; Lars Vogt
Ondine ODE 1316-2 (naxosdirect.com/items/dvorák-piano-trios-nos.-3-4-467122)
Violinist Christian Tetzlaff, cellist Tanja Tetzlaff (his sister) and pianist Lars Vogt are three of the most eminent and sought-after performers in classical music, gracing the world's most prestigious stages, both as soloists and chamber musicians. They are the crème de la crème.
With their 2015 release of the Brahms piano trios having garnered a Grammy nomination, the Tetzlaff-Tetzlaff-Vogt (T-T-V) Trio once again dazzles in their new recording of two Dvořák piano trios: No. 3 in F Minor and No. 4 in E Minor. The latter, also known as the "Dumky Trio," consists of six movements, each one a "dumka," a musical term taken from the Slavic folk tradition. Under Dvořák's treatment, each movement comprises alternating, strongly contrasting passages, from moody and melancholic to rhythmically exuberant.
These two Dvořák masterpieces are brought to extraordinary life by the consummate musicianship of Tetzlaff, Tetzlaff and Vogt. Their virtuosic playing is muscular, raw, dramatic, intensely expressive – ideal for the sweeping, rhapsodic and near-symphonic – Brahmsian – F Minor trio. Written a few months after the death of Dvořák's mother, the heart-achingly beautiful third movement is exquisitely executed by the T-T-V Trio.
As for the "Dumky," with so many recordings of this beloved trio available, one might think that nothing new could possibly be brought into the recording studio. But one would be seriously mistaken. In the impeccable hands of the T-T-V Trio the "Dumky" is revelatory: fresh and exhilarating, reflective, tender and radiant. This CD is a must!