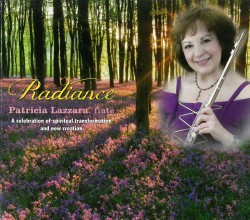 Radiance – A celebration of spiritual transformation and new creation
Patricia Lazzara, flute
Independent (patricialazzaraflutist.com)
This, the ninth studio album by the distinguished American flutist, Patricia Lazzara, presents a fascinating program of contemporary compositions and arrangements for the flute by a collection of living American, Canadian, European and Japanese composers. The two Canadians are Toronto flutist and composer, Ron Korb, no stranger to these pages, and Uzbek-Canadian, now living in Toronto, Dmitriy Varelas.
The first two tracks are works by Korb, Woodland Serenade and A Muse. The latter, unlike any other of Korb's compositions that I have heard, is unaccompanied and offers both technically challenging passages and sections using extended technique which blend perfectly with the more conventional writing. Track three, Reflections of Radiance, by Varelas, for flute and alto flute played by Steve Markoff and cello played by Gerall Heiser is a beautiful and accomplished work, a really great addition to the flute ensemble repertoire. Track eight, Domingo Semenzato's Divagando (choro) with guitarist, Darren O'Neill is played with just the right blend of vitality and sadness to lift the notes off the page, so to speak.
A real surprise for me, and at first glance an incongruous part of a primarily contemporary program, is the Sicilienne by the Austrian composer and contemporary of Mozart, Maria Theresia von Paradis. This enchanting melody has a strangely contemporary feel to it though, and is actually a good fit. Many thanks to Patricia Lazzara for introducing us to some fine new repertoire by mostly not-well-known contemporary composers.