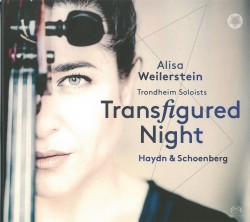 Transfigured Night
Alisa Weilerstein; Trondheim Soloists
Pentatone PTC 5186 717 (pentatonemusic.com)
The Trondheim Soloists is a Norwegian chamber orchestra formed in 1988, now recognized as one of the most innovative and exciting groups in the country and fervent performers of Scandinavian music. Alisa Weilerstein was appointed artistic partner in 2017 and this is the first recording in their new exclusive agreement for Pentatone Music. The performances and recording are exemplary in every respect. A brilliant debut.
The contrasting choice of repertoire, Haydn and Schoenberg, each an apt foil for the other, works well. Weilerstein was taken with the Haydn concertos when performing them the previous September in their first collaboration. The buoyant and inspired performances and translucent recordings are more than satisfying.
Schoenberg's Verklärte Nacht, Transfigured Night, is a programmatic string sextet in one movement, composed in 1899, inspired by the Romantic poem of the same name by Richard Dehmel. As in the poem, the work is in five sections. Dehmel tells the tale of a man and a woman, lovers, walking through the woods. She confesses to him that the child she is carrying was conceived in an embrace with a stranger. After much turmoil the man tells her that the depth and warmth of their love will transfigure the stranger's child to be his… theirs. Resolved, they walk, his arm about her, through the high, bright night.
In 1943 Schoenberg scored the work for a string orchestra, which is the version heard here. Although I have listened to and absorbed this favourite work many, many times over the years, I am newly thrilled and quite taken with this brilliantly recorded, poignant performance. The fourth section, Adagio, where the transfiguration begins, blending into the fifth section's molto tranquillo, quite literally took my breath away. The musicians are consistently responsive and dedicated, sounding like true believers.
I had not read the accompanying booklet before listening but later leafing through it found Weilerstein's notes. Her account of the recording sessions concluded, "While recording Verklärte Nacht, at the end of a day spent working through details, we concluded with one final concert play-through – a tradition where the fatigue of a long session often outstrips artistic goals. This time, however, it was the most vibrant and focused rendition of the whole afternoon. As the final note decayed in the rounded echo of that old church, everything was completely still and everyone completely silent."