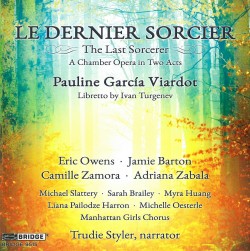 Pauline García Viardot – Le Dernier Sorcier
Soloists; Manhattan Girls Chorus; Trudie Styler
Bridge Records 9515 (bridgerecords.com)
The French/Spanish mezzo-soprano, composer, and pedagogue Pauline García Viardot composed Le Dernier Sorcier (The Last Sorcerer) in collaboration with her partner, Russian novelist/librettist Ivan Turgenev. After its 1867 premiere, the original manuscript of this two-act chamber opera, scored for solo voices, treble chorus and piano, was held in a private collection until the Harvard University Houghton Library recently acquired it and allowed this world premiere recording.
The libretto tells the story of Krakamiche, (bass-baritone Eric Owens), a once powerful sorcerer who has fallen on hard times after upsetting the lives of the fairies, (sung brightly by the Manhattan Girls Chorus), who live in the forest. The love story is between his daughter Stella (soprano Camille Zamora) and the lovelorn Prince Lelio (mezzo-soprano Adriana Zabala). Other characters round out the story. The great thing is that though sung in French (with liner notes both in French and English translation), actress Trudie Styler as the narrator recites in English between sung moments.
This entertaining, funny, toe-tapping, quasi-cliché opera merits dancing and singing along. The music is so very in the style of the operas of the day, with such classic sounds as alternating loud and soft volumes, piano accompaniment marching, waltz and lyrical lines, vocals soaring high and low. Pianist Myra Huang supports all the superb singers with clear playing.
Totally unexpected fun makes this a recording to lift one's spirits!