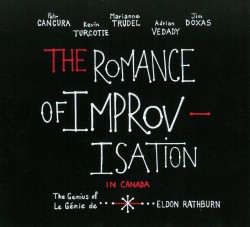 The Romance of Improvisation in Canada: The Genius of Eldon Rathburn
Petr Cancura; Kevin Turcotte; Marianne Trudel; Adrian Vedady; Jim Doxas
Justin Time JTR 8613-2 (justin-time.com/en/album/588)
The Romance of Improvisation in Canada – The Genius of Eldon Rathburn celebrates the music of the late, titular composer, who wrote more than 250 film scores, the majority of them during his long career as a staff composer for the National Film Board. This album – released through Justin Time, and helmed by Adrian Matte and Allyson Rogers, who co-produce and arrange all the album's music – is a labour of love to the memory of Rathburn, whose music will be familiar to multiple generations of Canadians, even if his name is not. Playing Matte and Rogers' arrangements is the top-notch ensemble of Petr Cancura, saxophone, Kevin Turcotte, trumpet, Marianne Trudel, piano, Adrian Vedady, bass, and Jim Doxas, drums.
Working for the NFB, many of Rathburn's assignments involved composing music for educational shorts, including the endearingly titled Fish Spoilage Control; the theme gets an up-tempo swing treatment on this album, with a jagged melody set atop a tense pedal point. The Industrial Revolution Comes to Canada, at a mere 31 seconds, is a brief foreboding delight; likewise the three sections of the Ox Driver's Blues suite. Fresh Fish Delish! Le Poisson se mange frais! is a bouncy, bluesy number, which, like so much of the album, balances humour and levity with the ensemble's sophisticated improvisational prowess; Vedady, Turcotte, Cancura and Trudel all take concise solos. An excellent and unique album, appropriate for those interested in Rathburn, jazz, Canadiana or any combination thereof.