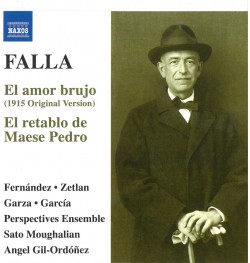 Manuel de Falla – El amor brujo; El retablo de Maese Pedro
Fernández; Zetlan; Garza; Garcia; Perspectives Ensemble; Sato Moughalian; Angel Gil-Ordóňez
Naxos 8.573890 (naxosdirect.com)
An interesting new issue presents two of de Falla's stage works as noted above. I have a sentimental attachment to El amor brujo (Love the Magician). It was the very first thing I ever saw in an opera house at age nine, but it was the ballet version. De Falla adapted the score a few times; the ballet from 1929 is the most often played. This performance however is the original 1915 version, the most complete and original conception performed by a small dedicated group of instrumentalists well suited for a work of this nature.
El amor brujo is actually a one-act zarzuela telling the story of a Roma woman who is haunted by the ghost of her former faithless lover, her struggle to exorcise it and finally be able to love again. It's a journey from darkness to light, from a night of sorcery and terror to the splendour of a new dawn, with de Falla's atmospheric, colourful score imbued in Andalusian folk idiom with dances that express the mood of each segment. The vocal lines are either spoken or sung authoritatively by the cantaora, a full-throated flamenco singer, Esperenza Fernandez. Most famous of the dances is the Ritual Fire Dance but all the others, especially the gentle, rollicking Dance of True Love are equally impressive; and the final apotheosis with all bells ringing is simply glorious.
The second work, El retablo de Maese Pedro (Master Peter's Puppet Show) is somewhat less characteristic. It is a mini-opera based on a chapter of Cervantes' novel, Don Quixote, and inspired by the age of Charlemagne. The music with "incisive Spanish rhythms and acerbic harmonies" is all skillfully fused with the French impressionism of Debussy and Ravel, de Falla's main influences. The performances are intense and very authentic.