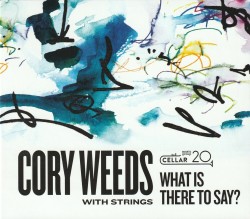 What Is There To Say
Cory Weeds with Strings
Cellar Music CM110620 (cellarlive.com)
So much classical and contemporary music features strings in orchestras, quartets and many other formats. When added into other genres the "string sound" can become a delicious addition to a country, pop or jazz recording (think of Frank Sinatra performing arrangements by Nelson Riddle or Gordon Jenkins). The Charlie Parker with Strings recordings are a milestone in jazz and were his best-selling albums.
Cory Weeds' What is There to Say continues this tradition by pairing a jazz quartet with an 11-piece string section playing standards and three Weeds originals (Waltz for Someone Special, Alana Marie and Love is Wild). The overall sound and performances here are exquisite. Phil Dwyer must be commended for creating such engaging and articulate arrangements and playing some great piano as well. Weeds is well known as a producer and all round jazz entrepreneur (his good work includes founding and managing Cellar Live) but primarily he is an excellent saxophone player with many albums to his credit as leader.
Throughout What is There to Say? Weeds illustrates how playing the melody, with his full and assured tone, is perfect in some spots while in others (like the moderately up-tempo There's A Boat Leavin' Soon for New York, or trading fours with Dwyer at the end of Love Is Wild), some great bop lines add zest to the proceedings. So really, What is There to Say? except, listen to this album for its elegance, fine performances and solid groove.