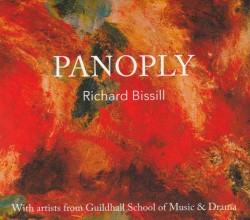 Richard Bissill – Panoply
Artists from the Guildhall School of Music & Drama
Three Worlds Records TWR0011 (three-worlds-records.com)
The opening two-minute Philharmonic Fanfare for brass and percussion, commissioned by the London Philharmonic Orchestra, boisterously heralds this CD's many forthcoming pleasures. Richard Bissill, former LPO principal horn and longtime professor at London's Guildhall School of Music and Drama, enlisted students and fellow faculty members to perform the music recorded here, all composed between 2001 and 2016.
Bissill himself appears in his eight-minute Trio for horn, violin and piano, two warmly lyrical sections embracing a graceful, lively scherzando. Episodically varying tempi and moods make the nine-minute Twisted Elegy for flute, viola and harp much more "twisted" than "elegiac." Bissill's ten-minute Sirens for violin and piano vividly evokes the mythical temptresses with music that's playful, sensuous and urgently seductive.
There are two 15-minute, three-movement pieces. The jazz-tinted Triangulation achieves heightened impact through its unusual textures – dense and gritty – produced by seven bassoons and one contrabassoon. Panoply for flute and piano, with its quicksilver first movement, languid, Debussy-inflected central movement and theatrical finale, is a fresh, delectable addition to the flute repertoire.
The 12-minute The Magnificent Seventh for eight horns, piano, bass and drums, based on the interval of a minor seventh, moves from fanfares and busy syncopations to a slow, bluesy middle section before the piece, and the CD, ends in a burst of triumph.
Bissill's inventively varied, thoroughly engaging music – "progressive-conservative" in the best sense – deserves widespread exposure to international audiences. Recommended!