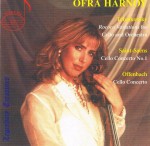 When she was 16 years old, cellist Ofra Harnoy emerged as a phenomenal musician with a distinctive style and sound. She was wooed by record companies and by the time she was 20 she had been signed to an exclusive contract by RCA Red Seal, which meant that she was promoted world-wide and engaged to appear and record with major international orchestras, such as the London Philharmonic. This kind of contract, signed in New York, was the first awarded to a Canadian since Glenn Gould. DOREMI CD (DHR-6607) contains three concertos recorded for Fanfare before the RCA signing and subsequently reissued by RCA in the mid 1980s. The light-hearted, flamboyant Offenbach Concerto in G major, with Erich Kunzel and the Cincinnati Symphony is followed by Tchaikovsky's Rococo Variations and the Saint-Saëns no.1 both with Paul Freeman and the Victoria Symphony. Strikingly apparent throughout all three are Harnoy's natural musicality and effortless execution, giving performances worthy of a dedicatee. To our loss, by about 30, with her prestigious career in full bloom, she stopped performing. This CD is a shining reminder of an exceptional talent.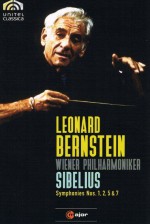 Toronto concert goers won't soon forget the Sibelius Festival in Roy Thompson Hall last April. Guest conductor Thomas Dausgaard inspired the Toronto Symphony to achieve and sustain unsuspected levels of refinement and charm from shattering tuttis to hushed pianissimos. Dausgaard is a master of this repertoire as are and were other conductors, notably Beecham, Barbirolli, Koussevitzky, Karajan, Osmo Vanska, Vladimir Ashkenazy, and Leonard Bernstein. The Unitel videos of four Sibelius Symphonies (1, 2, 5, & 7), with the Vienna Philharmonic under Bernstein have been released by Cmajor on 2 DVDs (702208). Some 20 years have passed since the live performances but age has not lessened their immediate impact. Symphony No.2 from October 1986 is a performance not of crescendo upon crescendo but of perfectly judged tempi and dynamics culminating in a definitive final statement. This is not possible if the conductor, as often happens, 'gives it away' too early and too often. The First, from February 1990 was recorded a bare eight months before the conductor's death. Bernstein, although clearly enervated after the first movement (you can see it in his face and body), could not have offered a more searing valedictory address. The Fifth has real pulse and tension waiting to be relieved only by the final considered chords. Very special. In truth, they are all special, conducted by the wunderkind who never lost his heuristic mind. Excellent video definition, faultless camera work and thrilling five channel audio make this set quite irresistible.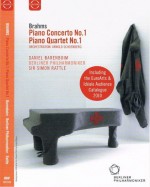 Since Daniel Barenboim made his celebrated recordings of the Brahms Concertos with Barbirolli and the Philharmonia in 1967 we have seen and heard him in this repertoire many times. Barenboim's Brahms is authoritative, vigorous and second to none. On a recent DVD of the First Concerto we heard him with Zubin Mehta and the Israel Philharmonic and now another performance has arrived from EuroArts (2022020108), recorded on May 1, 2004 in the Herodes Atticus Odeon in Athens. Simon Rattle conducts the Berlin Philharmonic during their first European concert tour after he took over as chief conductor. Even though it is an open air event, the sound is remarkable and the balances ideal. The orchestra plays with splendid vitality, confirming, as if it were necessary, the wisdom of his appointment. The orchestra offers a passionate reading of Brahms Piano Quartet No.1 op.25 in the orchestration by Arnold Schoenberg. This performance by Rattle and company has the impact and scale of another Brahms symphony. Watching the video reveals the high level of excitement and enthusiasm of the players and conductor. Brahms enthusiasts must not pass this by.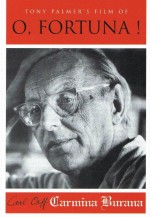 O,FORTUNA is Tony Palmer's film offering a warts and all portrait of the late Carl Orff, the composer of Carmina Burana, Der Mond, Oedipus, Prometheus, Antigonae, Der Kluge, Music for Children, etc, etc (TP-DVD113). Orff was a man who would tolerate nothing short of perfection in performances of his work and who burst into a vitriolic attack against those who fell short. There are no actors: everyone seen and heard are the actual musicians and producers involved with Orff, his wives and offspring. Orff is seen in interviews and in demanding encounters with his colleagues. No complete performances are included in this DVD which provides extensive insights into this complex composer and human being who, as wife number three says, should have been born 2500 years ago. One thing is sure: you will listen to his works with fresh ears hereafter.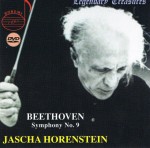 Jascha Horenstein was an iconic conductor who, although he was in demand on every continent, did not become the music director of a major orchestra even though he conducted them regularly. He was considered by many to be in the league of Furtwangler and Klemperer. DOREMI has a DVD of the Beethoven Ninth with the ORTF (DHR-7960) from October 31, 1963 with an all-star cast, Pilar Lorengar, Marga Hoffgen, Josef Traxel and Otto Weiner. This is one of only two known videos of Horenstein conducting. One suspects that a 30 second drop in sound level of the opening bars held back any official release. Nevertheless, this is an essential item for collectors, in spite of the picture quality of a vintage VHS with sound to match.