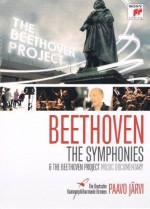 Beethoven - The Symphonies & The Beethoven Project
Die Deutsche Kammerphilharmonie Bremen; Paavo Järvi; Christiane Oelze; Annely Peebo; Simon O'Neill; Dietrich Henschel; Deutscher Kammerchor
SONY 86977814396 (4 DVDs)
"As long as we will be performing the Beethoven symphonies they will always be slightly different. There is no way of making an identical performance... it simply doesn't work that way. One of the things that I value most by doing those cycles is that I feel that the next one can be a little bit better because I have learned something from the one before and I feel that I know how to do them better and I feel that the orchestra and I have a closer communication because we've been through this process."
Paavo Järvi and the Deutsche Kammerphilharmonie had already recorded the Beethoven Symphonies for CD release over a period of four years from 2004-2008. Those performances had positive reviews and I was very impressed by the clarity and energy of the playing and the hard-edged recording.
The new cycle on DVD was recorded not in four years but four consecutive days, September 9-12, 2009 in the Beethovenhalle in Bonn. It is plain to hear that the ensemble has refined into a more personal style that is far more engaging and persuasive. The thrilling live performances are both inspired and inspiring, a tribute to Järvi's panache and inspiration; they glow from within... a refreshing experience. The sound dynamics, whether heard in stereo or 5.1 surround sound are exceptional, as they must be here.
Play the extra DVD, "The Beethoven Project Music Documentary," first as it tells how this event came together and also get to know a few of the players and experience the orchestra's general camaraderie. More valuable are the rehearsal excerpts in which Järvi works with the players on matters of tempi, phrasing, dynamics, and balance and illustrates Beethoven's sense of humour. Later, one of the players relates a conversation between players on the last day as to whether they should play it safe in the Ninth. They decided to go all out and hold back nothing.
I promise that even the most jaded listener will be listening with new ears.