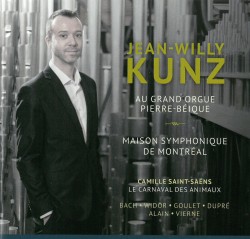 Jean-Willy Kunz au grand orgue Pierre-Béique
Jean-Willy Kunz
ATMA ACD2 2747

Review
The following review is an excerpt from Keyed In (September 2017) which can be read in its entirety here.
Jean-Willy Kunz is the first organist in residence of the Orchestre Symphonique de Montréal. His debut solo recording Jean-Willy Kunz au grand orgue Pierre-Béique (ATMA ACD2 2747) contains the requisite Toccatas along with some skillfully chosen works that make this recording thoroughly entertaining.
Among the standards in the list is the Toccata from Widor's Organ Symphony No.5. For the sake of acoustic clarity, Kunz takes this at a slightly slower pace than is often heard, so the piece comes across cleanly but still powerfully. Vierne's Carillon de Westminster Op.54, No.6 builds beautifully to a towering and thrilling finish. Another impressive work is Maxime Goulet's Citius, altius, fortius! in which Kunz showcases the organ's solo and chorus reeds, and mixtures.
The CD's highlight is Kunz's own arrangement of Saint-Saëns Le Carnival des animaux. The colouristic potential of this symphonically planned concert instrument is exploited in each of the 15 movements. L'Éléphant, appropriately portrayed by the deepest register pedal pipes, will shake your speakers, while Le Coucou au fond des bois uses a small reed stop to sound the familiar two-note call.
It's an excellent recording with perfect repertoire choices and brilliant playing.