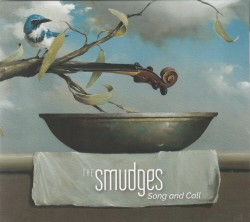 Song and Call
The Smudges
Crypto Gramophone CG149 (cryptogramophone.com)
Innovative and insightful, Song and Call is an album that will grow on you each time you hear it. Featuring a chamber ensemble consisting of violin and cello, the sonic landscape on this album is somewhat symphonic and often experimental in nature. Add to that the Smudges creative use of samples and electronics on top of the classical foundation and form, and we get to hear many wonderful, intense and sometimes surprising layers of textures throughout.
Violinist Jeff Gauthier and cellist Maggie Parkins have such a strong synergy and cohesiveness of sound that it often feels as if we are hearing one instrument. Their background in new music and improvisation is at the forefront of the Smudges' performance. The album opens with Music of Chants, a melodiously lush composition by Guy Klucevsek and closes with the symphonic Release by Tom Flaherty. In between are pieces by Gauthier and ensemble improvisations, playfully varying in genres, expressions and length, and always maintaining a unique ensemble sound.
The heart of this album and the title piece, Song and Call, plays like a musical treatise on birds. Four attacca movements, titled after four birds (Gray Fantail, Common Starling, American Robin and Eastern Winter Wren), are a magical kingdom of slowed-down bird song samples, electronics, loops, whistling, chimes and singing bowls, in addition to electric violin and often percussive cello. The result is simply stunning.